Nick Fry
Former CEO Mercedes Petronas F1 Team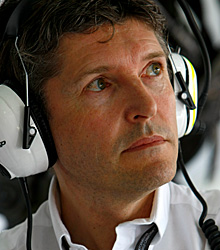 About
One of the most decorated names in the automotive world, Nick Fry is former CEO and co-owner of Mercedes AMG Petronas F1 and was responsible for building the teams that won the 2009, 2014, 2015 and 2016 F1 Drivers and Constructors Championships.

Working in Formula One since 2002, Nick led a management buyout of Honda, creating Brawn GP and led the team to its first F1 victory and subsequent World Championships. Following the sale to Mercedes he continued to successfully manage and grow the team and negotiated the 2010 recruitment of Lewis Hamilton from McLaren in the process.

Having begun working life as a trainee with the Ford Motor Company in 1977, Nick Fry had graduated from the University of Wales with a degree in Economics. Working first in Sales and then Market Research, in 1978, he was moved to Product Development as Product Planner. He helped develop a variety of models over the next 12 years, including several performance models like the Ford Escort Cosworth, the RS200 and others. Nick also spent time at Aston Martin in the early 1990s whilst the company was under Ford ownership, overseeing the development and launch of the critically acclaimed DB7 model and switch from manufacturer of hand-built-only vehicles at the traditional Newport Pagnell site to a higher-volume producer at a new factory operation at Bloxham. During his high performance career, he went on to work with Ford in the UK, Detroit and Germany.

When Aston Martin were sold to Prodrive, Nick Fry was appointed CEO, leading their expansion into engineering services for the likes of Ferrari, as well as winning World Rally and Sports Car Championships. He then moved to F1 as MD and then CEO initially with BAR Honda, which would evolve to become Brawn GP and eventually Mercedes Petronas. He restructured the Mercedes team on-and-off the track after its long-term absence from the sport. He built high profile sponsorship deals, often in new industries, and led the team to its first race victory and subsequently World Championships both as a constructor and in the Drivers' Championship with Hamilton. He also oversaw innovative marketing and commercial programmes.

Notable career highlights include:
• Won first GP for a Mercedes works team since 1955
• Negotiated driving contract with Lewis Hamilton (after 14 years with McLaren) replacing Michael Schumacher
• Developed innovative marketing program with XIX Entertainment (Simon Fuller) for development of Lewis Hamilton brand
• Signed new Commercial Agreement with Formula One Management securing Mercedes commitment to F1 through 2020
• Appointed as UK Business Ambassador by Prime Minister
• Negotiated 5 year sponsorship contract with Petronas, probably the largest contract in F1
• Developed breakthrough environmental marketing strategy successfully launched in January 2007.

A UK Business Ambassador, consultant and Venture Capitalist Nick Fry continues to play a very active role in the world of Motor Sport, Engineering and Business.
Speech Topics
An enthusiastic and experienced speaker, in his corporate keynote presentations, Nick Fry shares his insights and vision on how individuals and organisations can win and maintain high performance in highly competitive markets, drawing on the parallels from the fascinating world of F1.

He demonstrates the key factors for decision makers wanting ROI from strategic planning and execution of programmes, ranging from management buyouts to developing innovative marketing and change management. A highly respected leader, Nick Fry combines sports and commercial management experience, delivering outstanding results in global, cross-cultural environments.
You may also be interested in...