Mitch Winehouse
Jazz singer and father of Amy Winehouse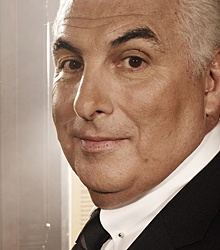 About
For some it is marathon running, others climb mountains, but for former London cab driver Mitch Winehouse, fundraising goes back to his roots. Wherever he sings, all the profits go to the Amy Winehouse Foundation, set up in his daughter Amy's memory to help disadvantaged young people.

In 2011, Mitch Winehouse released his debut album, 'Rush Of Love' and it told a fascinating story. Mitch and Amy poured through the records they loved - jazz, big band and swing classics that laid bare the roots of the Winehouse musical DNA, the connection between the music that Mitch's East End upbringing drummed into him, which he handed onto his own children.

The press was surprised, "The temptation to dismiss it as a vanity project falls away in the face of what is actually an accomplished piece of work," wrote the Daily Telegraph. Mitch released his second record, 'But Beautiful' on his daughter's Lioness label, three years after her tragic death, this time in aid of the Foundation. Produced by Grant and Clive Black with their father, the great lyricist Don Black, contributing a new song, 'Never Too Far From A Song' a big band tribute to the love of music that sits perfectly alongside the classics like 'Learning The Blues' and 'But Beautiful'. His and Amy's hero, the great Tony Bennett has become a close friend and Foundation supporter. When Mitch asked his favourite song, Tony replied with 'But Beautiful.'

Music has helped Mitch and his family through the tragedy of the last few years. Their belief in its power has extended to their charitable work, with the Amy Winehouse Foundation as their full focus, they have invested heavily in music projects.

Vulnerable young people use Amy's studio and are provided a producer and engineer to help develop their skills and confidence for the Amy's Yard project. There are music therapy rooms funded by the Foundation for severely disabled children. They have equipped a new music studio at a day centre for young homeless. Their Resilience Programme For Schools is reaching tens of thousands of children across the UK, educating them about the underlying causes of substance misuse such as low self esteem and peer pressure, and what can be done to prevent it.
Performance
Performing in aid of the Amy Winehouse Foundation, Mitch Winehouse presents his great love of jazz, swing and Bossa Nova classics. He showcases his two albums 'Rush Of Love' and 'But Beautiful', performing all over the world with his remarkable band and raising money for AWF, the charity set up in his daughter's name.

Exploring the classics, Mitch WWinehouse shares the great songs that he and Amy loved, reviving his first career as a young singer around London clubs. A true aficionado of the form, expect classics from Sinatra to Carlos Jobim.
You may also be interested in...