Michael Aspel OBE
Veteran television presenter - 'This is Your Life' & 'Antiques Roadshow'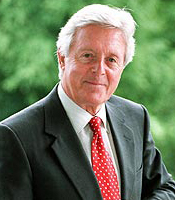 About
Michael Aspel Is on of Britain's bets known television presenters with a career spanning from the 1960s to the present day.

His career started at the BBC as a newsreader, becoming one of the country's most familiar faces during the 1960s and 1970s as a regular presenter of the evening news. Michael also provided narration for the BBC nuclear war documentary The War Game, which was judged too horrifying and politically charged to be shown on BBC TV. It won the Best Documentary Feature Oscar in 1966, but it was not shown on British television until 1985. He moved on to a wide variety of light entertainment roles. These included the long- running BBC children's TV series Crackerjack and Ask Aspel. In 1969 and 1976 he hosted the BBC's A Song for Europe contest and provided the UK commentary at the Eurovision Song Contest in 1976. Michael Aspel was also a regular host of Miss World.

In the 1970s, Aspel appeared with a number of other newsreaders and presenters in a song-and-dance routine on The Morecambe and Wise Show. The sketch, in which the presenters were dressed as traditional sailors, is often cited as one of the classic moments of British TV comedy. In another episode, Morecambe refers to him as "Michael Aspirin".

Aspel also presented a mid-morning music and phone-in programme on Capital Radio in London in the 1970s, as well as popular ITV programmes such as Give Us a Clue, Child's Play and The 6 O'Clock Show, a live current affairs and entertainment programme shown only in the LWT (London) region.

One of his best-known roles was as host of his own chat show, Aspel and Company, which ran for several series in the 1980s and 1990s on ITV. The programme was seen as a rival to the BBC's long-running Parkinson. Aspel and Company was successful in attracting high-profile guests, including then-Prime Minister Margaret Thatcher giving a rare non-political interview.

Michael Aspel replaced Eamonn Andrews as presenter of This Is Your Life, and continued to present the programme on the BBC until it ended in 2003. He presented BBC's Antiques Roadshow from 2000 until 2008.

He has guest hosted the topical quiz show Have I Got News for You on two occasions (October 2005 and November 2007). In 2006, he played the role of the narrator in the UK tour of Richard O'Brien's The Rocky Horror Show.

Michael Aspel is a popular choice for hosting award ceremonies and corporate dinners and is a first-class interviewer.
You may also be interested in...