Chris Tarrant
Former Capital Radio DJ and television presenter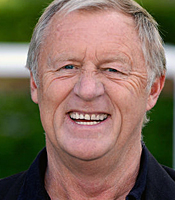 About
Love him or loathe him, with his popular breakfast show on Capital Radio and his regular peaktime appearances on ITV, Chris Tarrant has become the king of popular broadcasting.

He may not be the most obvious media power broker, but he's the biggest personality on UK commercial radio and has done wonders for the popularity of ITV's Who Wants to be a Millionaire?, which is now the world's most successful quiz show. ITV has returned the favour by making Tarrant the biggest face on the box.

Chris Tarrant knocked Richard Madeley and Judy Finnigan off their thrones to become the most recognisable face on British TV. Tarrant also picked up a Sony award for his 'unique relationship with his listeners' but was also praised for still bothering to get up in the mornings when he already had more money than he needed.

He started his career as an English teacher before he got his first TV break in Tiswas.
Performance
As well as awards hosting and after dinner speaking, Chris Tarrant is also available to present a bespoke corporate version of Who Wants to be a Millionaire? tailored for your event. Please contact us for further information.
You may also be interested in...