Chris Evans
Eccentric television personality, DJ and entrepreneur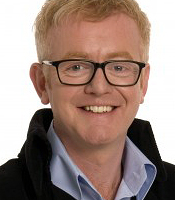 About
Chris Evans' extraordinary career has seen him become one of the country's most successful broadcasters and television entertainers. From humble paperboy to media mogul, Chris is the epitome of council estate lad made good, very very good!

From The Big Breakfast to Don't Forget Your Toothbrush and TFI Friday, Chris Evans changed the TV landscape during the 1990s; and on Manchester's Piccadilly Radio, BBC Radio 1's Breakfast show and as owner of Virgin Radio he ushered in the age of the celebrity DJ.

Born on a dreary council estate in Warrington, Cheshire and determined to escape the potential life that lay ahead, Chris started out as the best newspaper boy on the block, armed with no more than a little silver Binatone radio that he would take to the newsagents each day and through which he would develop a lifelong and passionate love affair with the music and voices that emerged.
Books and DVDs
Below you'll find products by Chris Evans which may be available for purchase. Click the image to view on Amazon's website. Clients often like to purchase books and other merchandise as autographed give-aways at events where Chris Evans is appearing. For bulk purchases, please speak with the Booking Agent handling your event.
You may also be interested in...