Mat Ricardo
"One of the greatest variety acts working today" The Scotsman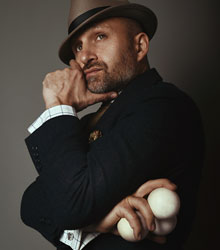 About
Mat Ricardo is a key figure in the cabaret and variety revival. A natural comedian who presents huge laughs, serious skills, slapstick, breath taking spectacle, genuine danger, and dexterous elegance – he is a man very much at the top of his game.

Mat has performed by Royal command on more than one occasion, headlined and hosted shows across the UK, and regularly appears further afield, including residencies in the legendary European Variete theatres. He has appeared in gala shows on stage and television the world over, and receives regular invitations to perform in such iconic venues as the Royal Albert Hall, The Savoy Hotel, and Hollywood's Magic Castle.

Mat learned his craft on the cobblestones of Covent Garden, and continues to be one of the most quick-witted, high-skilled, well-travelled and sharply-dressed entertainers on the international circuit.

His success with his solo theatre shows, at festivals, and on tours, has earned him several theatre awards, runs at the London International Mime Festival, performances as far afield as Australia, a week at the Purcell Room, in London's South Bank Centre, and several London West End sell-outs.

His groundbreaking work merges verbal and physical comedy, storytelling, dance, and of course, his trademark spectacular feats of dexterity.

He has entertained corporate clients too numerous to mention, consulted on major Hollywood movies, guest-starred on high-profile television shows, but is never happier than when he's in front of a live audience, with a glint in his eye and a trick up his sleeve.
Testimonials
Undoubtedly one of the greatest variety artists working today.
He has the power to make a roomful of people fall in love with an artform that they may have never considered seeking out before. But he is so much more. The range of daredevil stunts and displays of muscle memory and dextrousness simply must be beheld to be believed. Ricardo is second to none.
Mat Ricardo has done more to revive the art of variety than anyone else.
A sublime juggler, a true gentleman, and a variety artiste who undoubtedly embodies cabaret.
You may also be interested in...