Matt Edwards
One-man magical comedy experience and Britain's Got Talent finalist 2017.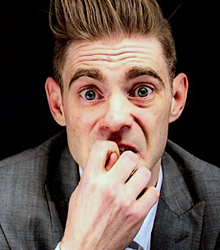 About
The magic phenomena of Matt Edwards is a one-man comedy experience. He combines magic and laughter with ease, and he's guaranteed to have any audience rolling around laughing with an act like you've never seen before.

Matt has numerous television appearances under his belt and has very quickly become one of the most sought-after performers in the UK. He shot to fame whilst competing in Britain's Got Talent 2017, where he finished in 4th position during the live finals. Simon Cowell said "If I was launching a new show then I would book you in a heartbeat. Your personality is your USP".

Matt Edwards' experience within the entertainment world is vast; he has been performing professionally for over 20 years, and although he started when he was only 5 years old, it's the only vocation he has ever known. His job has taken him all over the world performing for many large companies, celebrities and even royalty. He has managed theatres and written shows for the House of illusion (an award winning Spanish company that Matt helped to start) He performs in Panto every Christmas for Qdos, the UK's largest pantomime company, and is often booked just to appear at an event, for a bit of fun!

Ideal for any age group, Matt Edwards' extraordinary personality is guaranteed for many hours of side-splitting visually funny antics.
You may also be interested in...