Tape Face
Mime with noise, stand-up with no talking – drama with no acting.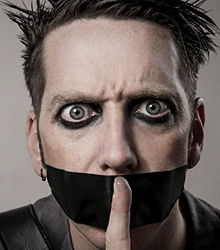 About
A former circus and street performer in his native New Zealand, Sam Wills began performing as the unique silent stand up, The Boy With Tape On His Face in 2008. A runaway success in the Antipodes, racking up multiple award winning performances, including 'Best Show', 'Best Show Concept', 'People's Choice'. Tape Face was also nominated for 'Best Newcomer' at Melbourne Comedy Festival and New Zealand's comedy Festival's highest accolade, the Fred Award.

Now living in the UK, 'Tape Face' brought his magical brand of physical comedy and unbelievable feats of the imagination to The Edinburgh Fringe Festival in 2010, where the show was an unmitigated debut success, receiving a Foster's Award nomination for Best Newcomer. 2011's Fringe show brought a bigger venue and a sold out run, as the Tape Faces universal appeal began to spread to previously unchartered territory. Following a UK tour of his seminal show, Wills returned to Edinburgh with new physical japery in the form of 'More Tape'. Selling out the 750-seater Pleasance Grand on a nightly basis, it was clear to see that Tape Face was having the show of the Fringe. His appeal having transcended boundaries of age, language and culture, it was no surprise to see him receive the Fosters Panel Award and eleven 5 star reviews.

Tape Face is a character with universal appeal. Delightful, wry, many-layered and hilarious, Wills accesses an inner child in us all that must be fed. Through simple, clever and charming humour aimed at satisfying that hunger, Tape Face has created one of the most accessible and enjoyable shows the world has ever seen.

Drawing on a heritage that includes silent film, mime, magic, puppetry, Motown and the films of Patrick Swayze, Tape Face is a pensive, curious soul approaching every object and audience member as a potential friend – or plaything. Shoes sing, empty dresses dance and electrical tape blossoms into roses, Wills creates a world of possibilities where the only certainty is laughter.

Tape Face is going from strength to strength following reaching the finals of America's Got Talent, he became a viral sensation as one of the most viewed videos in AGT history, debut in Las Vegas, completed a sold-out 52 date tour of some of the UK's most iconic venues and successfully persuaded a Spice Girl to wear a toilet seat on her head, live on American TV, in front of an audience of over 14 million!

This truly is comedy made for everyone, be prepared to get involved and enraptured as you step inside a comedy world unlike any other. Visually stunning, heart-stopping, and hilarious - you'll laugh, you'll cry, and when it's all over you'll be completely lost for words.
Testimonials
The Boy With Tape on His Face is utterly spectacular! Endlessly inventive, hysterically funny. Sublime physical lunacy – fight for a ticket.
A deliciously skilful hour, some of the set pieces are simply joyous, sometimes mesmerising.
A truly magical experience.
classic silent comedy with a twist, imagine Marel Marceau teaching you the moves to Blame it on the Boogie and you're halfway to understanding the appeal of this compelling act.
Wills is a slapstick virtuoso and can make almost everyone laugh
It's a pleasure to see great vaudevillian routines reinvented and invested with real personality.... Wills is the last word in silent comedy
You may also be interested in...