Martin Johnson CBE
Former England International Rugby Union team manger and captain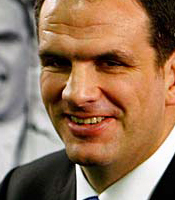 About
Martin Johnson's international career began when he played for the England Under 18's in 1987. He joined Tigers' senior squad in 1989 and in the summer of that year, represented King Country in New Zealand. He was subsequently selected for the NZ U21 to tour Australia the following year.

Martin made his England debut as an 'eleventh hour" replacement for Wade Dooley in 1993 and went on later that year to play numerous England A internationals and toured NZ with the British Lions, again replacing Dooley.

He has been involved in all 10 Five/Six Nations tournaments since his debut (1994-2003) and has been selected for 3 Lions Tours (NZ '93, SA '97 and AUS '01).

Martin Johnson was named the '98/'99 Allied Dunbar Premiership Player of the Season and after being appointed Tigers' club captain in '97 led the Leicester team to a Pilkington Cup victory, four successive Premiership titles 1999-2002 as well as the inaugural Zurich Championship in 2001. There was also the small matter of back to back European Heineken Cup triumphs in 2001 and 2002.

Even before he held the William Webb Ellis Cup aloft in Sydney on 22 November 2003, Martin held a unique position in world rugby being the only man ever to have captained the British Lions on two separate tours, to South Africa in 1997 and Australia 2001.

The World Cup triumph over Australia in Sydney meant that he became the first player from a Northern Hemisphere side, to captain his team to a World Cup triumph. Earlier in the year Martin had also led the England team to their Grand Slam victory in the 2002/3 Six Nations Championship, their first Grand Slam since 1995, and their first in the expanded competition.

As Leicester's longest ever serving captain, he became the 33rd player to have made 300 appearances for the club following his appearance against Bristol in 2003. To cap an outstanding career Martin was awarded a CBE in the 2004 New Year's Honours list.

In July 2008, Martin Johnson became the new England team Manager.
Tags for Martin Johnson CBE
You may also be interested in...