Lucy Alexander
TV presenter and property developer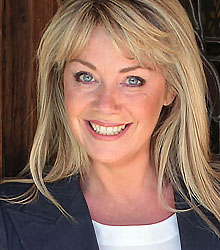 About
Lucy Alexander is the presenter of Channel 4's 'Bang on Budget'. However, she's best known for previously fronting the flagship BBC1 daytime property show Homes Under The Hammer, for 21 series, and regularly attracts over 2.5 million viewers.

Lucy's own route into the property world was far from conventional. A self-proclaimed precocious child, she grew up in east Dulwich, south London and was nine years old when she talked her mum into taking her to tap-dancing classes.

From this, she landed a coveted place at the acclaimed Italia Conti Academy of Theatre Arts in Clapham, before ultimately studying musical theatre at the London Studio Centre in Islington, where she met her close friend, fellow actress Tamsin Outhwaite.

She secured her big TV break on the Nickleodeon Channel, then joined Channel 5 where she presented the flagship children's show Milkshake and the cult game show Its a Knock Out with Keith Chegwin and Frank Bruno, before jumping ship to Sky's TV TravelShop Channel. Meanwhile, she met Stewart, her future husband, through Robin Banks, her co-presenter on Nickleodeon. Both she and Stewart auditioned as presenters for Homes Under the Hammer, though, of course, Lucy got the gig, and her husband went on to present the DIY show Big Strong Boys on BBC1.

Lucy Alexander is no newcomer to the property market herself, having bought and sold more than a dozen flats and houses for commercial gain. She bought her first flat when she was just 18 years old, and when it made a profit she was hooked!
You may also be interested in...