Rt Hon Lord John Prescott
Former Deputy Prime Minister under Tony Blair's Labour government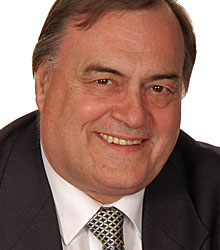 Copyright © Office of The DPM
About
Lord John Prescott was Britain's longest serving Deputy Prime Minister, and a key player in the Blair Government.

Arguably Prescott's most significant achievement was to lead negotiations at Kyoto, resulting in the first international treaty on climate change. He is also recognised for his keen interest in regeneration, particularly in the housing sector. Having now left office, he continues to advise the Chinese on their plans to build a thousand new 'sustainable' cities.

Starting out as a Cunard ship's steward and union official, Prescott rose to power via a degree in economics and a spell in the European Parliament. Throughout the period of modernisation, he maintained his core beliefs and his popularity with the party's grassroots.
Speech Topics
John Prescott has considerable insight into the leadership role. As well as his work with Al Gore on the international stage, he is widely credited for the way he managed the sometimes strained relationships around the Cabinet table.

Speaking Topics include:
• Policy Making
• Housing
• Regeneration and The Environment
• The Leadership Team Behind The Scenes of Government
Tags for Rt Hon Lord John Prescott
You may also be interested in...