Rt Hon Jack Straw
Former Home Secretary, Foreign Secretary and Leader of the House of Commons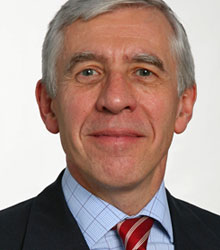 About
After three decades in Parliament and successive Cabinet positions Jack Straw is one of only three politicians to have served in Cabinet continuously from 1997 to 2010 - the others being Gordon Brown and Alistair Darling.

As an after dinner speaker Jack Straw has often been described as "surprisingly good", a term to which he is not adverse. He is one of the most experienced and insightful British and international political figures, with a disarmingly wry light-touch style as well as his formidable intellect and senior operational experience in so many policy areas give him a unique profile. Few active politicians today match his high-level policy insight and breadth. He has a wealth of vivid personal anecdotes and thought-provoking examples of what works in politics - and what does not.

Jack Straw read law at Leeds University and in the 1960s became a national student leader known for radical positions, to the point of being described by the Foreign Office as a "troublemaker acting with malice aforethought" for his political activity involving Chile. After qualifying as a barrister he had various media roles and entered Parliament in 1979 as the MP for Blackburn. He was Shadow spokesman on Education, then Environment and Shadow Home Secretary before being appointed Home Secretary after the Labour Party won the 1997 general election.

His time as Home Secretary (1997-2001) had its fair share of controversies - including new measures to increase police powers to deal with suspected terrorists - and saw the European Convention in Human Rights incorporated into British law. As Foreign Secretary (2001-2006), he played a leading role in the dramatic foreign policy problems arising from the 9/11 terrorist attacks in New York and then the interventions in Afghanistan and Iraq. He publicly defended these decisions, but in 2010 told the Iraq Inquiry that the decision to go to war "had haunted him".

In 2006 he was appointed Leader of the House of Commons and Lord Privy Seal with responsibility for parliamentary reform. He returned to the Opposition benches after Labour lost the 2010 general elections.

In 2011 Jack Straw attracted controversy for his frank policy positions on the future of the Eurozone and criticism of the car insurance industry, then in 2006 he called for Muslim women not to wear the full veil ("I felt uncomfortable about talking to someone 'face-to-face' whom I could not see"). Through his close relations with his diverse Blackburn constituency including his position as honorary vice president of Blackburn Rovers football club he has given much thought to sensitive community issues in a modern democracy.

Often criticised for his firm approach to civil liberties questions concerning suspected terrorists and his high-profile role in supporting the Iraq intervention, Jack Straw remains a popular figure in the UK and Europe, not least for his deft self-deprecating humour: as Home Secretary he joked that his large department was "full of civil servants working diligently on projects that might ruin my career".

In 2012 his autobiography Last Man Standing: Memoirs of a Political Survivor was published and has been described by the Guardian as 'a tour de force through the fluctuating fortunes of the labour party from the mid-1960s to the 2010 election defeat'.
Testimonials
The Rt. Hon Jack Straw proved to be a truly extraordinary speaker at ISOA's 2011 Summit. We have had many keynotes for our past events, but Mr Straw was particularly brilliant, on-topic and courageous with insights that were both astute and thought-provoking. His remarks were drawn from his eventful international relations tenure at the highest levels of government during some of the most turbulent years in recent global history; they were perfectly shaped for our audience. Mr Straw went beyond our expectations and graciously took the time to personally meet many of our membership and conference delegates and in the process truly endeared himself to the audience. I would highly recommend Jack Straw as a speaker for any prominent, internationally-focused event.
You may also be interested in...