Rt Hon Lord Michael Heseltine
Former Deputy Prime Minister and Conservative MP (1966-2001)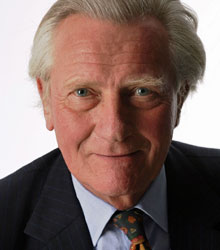 About
Lord Michael Heseltine is a businessman and Conservative politician. He was a Member of Parliament from 1966 to 2001 and a prominent figure in the governments of Margaret Thatcher and John Major. For over three decades he has consistently ranked as one of the best known public figures in the UK.

Michael Heseltine was born in Swansea and educated at Oxford University where he read politics, philosophy and economics. A self-made millionaire, after graduation he built up a property business in partnership with his Oxford friend Ian Josephs. With financial support from both families they started with a boarding house and progressed to other properties in the Bayswater area of London. They also built a housing estate at Tenterden, Kent.

In 1957, he founded Haymarket in collaboration with another Oxford friend Clive Labovitch, which is now one of the largest independent publishing companies in the country with extensive interests overseas. In 1967, and only 34 years old, he secured Haymarket's financial future by selling a majority stake to the British Printing Corporation, retaining a large shareholding himself and making himself a personal fortune of hundreds of millions of pounds.

In 1966 Michael Heseltine became MP for Tavistock, Devon and after the abolition of the Tavistock constituency in 1974 he represented Henley-on-Thames, eventually being succeeded in 2001 by Boris Johnson. He entered the Cabinet in 1979 as Secretary of State for the Environment following Margaret Thatcher's election victory that year.

Michael Heseltine was a key figure in the sale of council houses and was sent in as a troubleshooter to deal with the explosion of violence in Britain's inner cities during the early 1980s. He later served as Secretary of State for Defence from 1983 until 1986, when he resigned over the bitter dispute of a defence contract going to a US firm rather than Westland Helicopters in the UK. In the latter role he was instrumental in the political battle against the Campaign for Nuclear Disarmament (CND).

In 1990 he stood for the leadership of the Conservative Party against Margaret Thatcher and, while he was unsuccessful, his standing triggered Thatcher's eventual resignation. Despite gathering a large number of votes, mostly from the left of the party, he only succeeded in galvanising the right who rallied behind Margaret Thatcher's chosen successor John Major. John Major subsequently brought Michael back into government as Secretary of State for the Environment (with particular responsibility for replacing the Poll Tax) and then Deputy Prime Minister until the 1997 election defeat.

Michael Heseltine resigned his Henley-on-Thames constituency at the 2001 election but remained outspoken on British politics. He was given a life peerage as Baron Heseltine, of Thenford in the County of Northamptonshire. He rejoined the Haymarket Board of Directors on leaving Government and became Chairman of the Group in 1999. In 2011, he was asked to head an audit of the UK's industrial performance for the Chancellor of the Exchequer George Osborne and HM Treasury, upon which, after 11 years as a Member of the House of Lords, he made his maiden speech to the chamber.
Speech Topics
Lord Michael Heseltine is an adept and charismatic media performer, and an exceptional public speaker. Well known for his public performances, he delivers very high profile keynote speeches on a range of topics and is also popular as an after dinner speaker.
Tags for Rt Hon Lord Michael Heseltine
You may also be interested in...