Ann Widdecombe
Author and former Member of Parliament for Maidstone and The Weald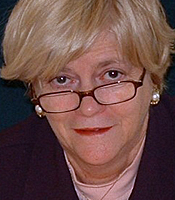 About
Ann Widdecombe was educated at the Royal Naval School - Singapore, La Sainte Union Convent - Bath, Birmingham University and Lady Margaret Hall - Oxford. She has Honours Degrees in Latin and in Politics and Economics and has an MA from Oxford University.

Ann published her first novel 'The Clematis Tree' in April 2000, which became a best seller. She has enjoyed participating in various television programmes including her own prime time television show on BBC2, 'Ann Widdecombe to the Rescue'. In this she acted as an agony aunt travelling around the country offering advice for a variety of problems within families.

She has contributed to many other programmes on a wide range of subjects including travel, politics and religion. As well as Television and Radio, Ann Widdecombe had built up a strong reputation in the print media mainly as a columnist for several newspapers.

She is currently a weekly columnist for the Daily Express. Other newspapers she has worked with are; Catholic Times (1994-96), The Guardian as an agony aunt (2004) and Daily Express (1998/99).

From 1976 to 1978 she was a Runnymede District Councillor. Ann Widdecombe contested Burnley at the 1979 General Election and fought Dr David Owen at Devonport in 1983 before being selected to succeed Sir John Wells as the Member for Maidstone. She was elected Member of Parliament for Maidstone at the 1987 General Election.

Between 1990 and 1994 she was Parliamentary Under-Secretary of State for the Department of Social Security and then Employment. Ann was Minister of State at the Department of Employment from July 1994 until July 1995 and in July 1995 she was appointed Minister of State at the Home Office, a position she held until 1997.

In May 1997 Ann was elected Member of Parliament for the new seat of Maidstone and The Weald with a majority of 9.603. In July 1997 she was appointed to the Standards and Privileges House of Commons Select Committee. She was appointed Shadow Secretary of State for Health in June 1998 and on 9th June 1999 she was appointed Shadow Home Secretary.

In July 2001 Ann Widdecombe announced her decision to retire from the Shadow Cabinet citing the wish to be able to speak on issues which she felt strongly about without the constraints which being a Front Bencher necessarily imposes.
Books and DVDs
Clients often ask about purchasing books for giveaways and delegate packs. Below you'll find a selection of products by Ann Widdecombe. Click the images to view on Amazon's website. For bulk orders, please speak with your Booking Agent.
You may also be interested in...