Lord Alan Sugar
Founder of Amstrad and star of BBC's The Apprentice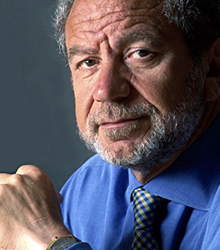 Copyright © BBC
About
If it were possible to have a male version of the Cinderella story, Lord Alan Sugar's is as close as you are likely to get. The business magnate, media personality, and political advisor was brought up in an East London council house the youngest of four children. Today he lives in a mansion in Chigwell, Essex, with his wife Ann, and enjoys the trappings that success and wealth bring: he has properties in Marbella and Florida, a yacht and an 8-seater Citation jet.

But Lord Sugar has worked hard to get this far. At 16 he took the advice of his teacher 'to work much harder' and landed a job as a statistician at the Education Ministry. But he soon got bored and started selling car aerials from the back of a dilapidated van. He registered Alan Michael Sugar Trading as Amstrad when he was 21 and went on to make a fortune selling basic, low-cost, computer technology to the masses. During the 1980s his star soared because he had caught the personal computer market at exactly the right time. At the start of the 1990s Amstrad's share price plunged, but Sugar bounced back and de-merged Viglen in 1997.

Alan Sugar is now one of the wealthiest people in Britain with a personal fortune that is estimated to be over £770 million (US $1.14 billion) and in 2011 he was ranked 89th in The Sunday Times Rich List. By 2002, Tottenham Hotspurs, the premier league club he bought in 1990 for £7 million, was worth £63 million. Alan Sugar eventually sold his shares for

In 2005 Alan Sugar entered the world of reality television and became the star of BBC show The Apprentice, which has broadcast one series each year since 2005, in the same role as Donald Trump in the US version. Lord Sugar fires a candidate each week until one candidate is left, who is then employed in his company or, since 2011, wins a 50/50 business partnership with Lord Sugar, including his investment of £250,000 to establish their own business.

Lord Alan Sugar is also a financial investor in other ventures including Amsair Executive Aviation, Amsprop - an investment firm; Viglen Limited - an IT services provider catering primarily to the education and public sector; Amscreen - specialising in selling advertising space on digital signage screens and YouView - an internet TV service in the UK providing access to Freeview television and TV on demand (catch-up TV) services via a 'hybrid' set-top box.

Alan Sugar was knighted in 2000 for services to business. He holds two honorary Doctorates of Science, awarded in 1988 by City University and in 2005 by Brunel University. He is a philanthropist for charities such as Jewish Care and Great Ormond Street Hospital

Lord Alan Sugar is available as a guest speaker and offers a one hour moderated Q&A session with his personal fee donated to the Great Ormond Street Hospital Children's Charity.
You may also be interested in...