Nick Hewer
Broadcaster (Countdown, The Apprentice) and PR expert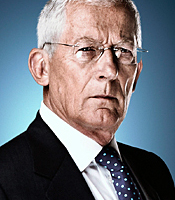 About
Nick Hewer the host of Channel 4's popular show Countdown and Alan Sugar's right-hand man on The Apprentice. His facial expressions, borne of wonderfully dry humour and a lifetime's business experience, tell you exactly what he thinks of the contestants.

Hewer's PR firm was selected to represent Amstrad in the eighties and soon became responsible for media handling of all Alan Sugar's business and charitable activities. For over 20 years, Nick played an integral part in Amstrad's management structure. He also built up a long and impressive client list, including the Secretariat of HH the Aga Khan and the wife of the ruler of Dubai, the late Sheikh Maktoum.

After selling the business, Nick retired early to his house in south west France; but having become firm friends with Alan Sugar, he was called back to help negotiate with the producers of The Apprentice. The tables were turned when Alan Sugar persuaded Nick to take an on screen role and promised to negotiate his fees. "I fought hard against it", he says, "but he cajoled me - in a muscular sort of way".

Nick Hewer and his original opposite number Margaret Mountford became surprising stars of the hit reality show. Nick's after dinner speech takes audiences behind the scenes, before turning into an extended question and answer session. With The Apprentice consistently topping the ratings, there is never any shortage of questions.

Nick's career has taken him all over the world; in his retirement he still pursues his lifelong passion of world travel, and not long ago he drove a 20 year-old Renault 4L solo from London to Mongolia for charity and last summer took part in the Children in Need trek from Istanbul to Almaty in Kazakhstan.

As a patron of Hope and Homes for Children, Nick Hewer helps promote this British charity. He has worked for them in Romania, Rwanda and will visit Sierra Leone this summer. He has a home in France where he indulges his other passion, for old tractors.
You may also be interested in...