Lloyd Buck
Bird handler and wildlife presenter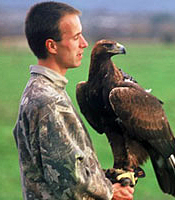 About
Lloyd Buck's love affair with birds began when he was 10. He started with budgerigars and parakeets and when he was 12 he got a couple of captive barn owls and eagle owls - he's been working with birds ever since - more than two decades.

Over the years he and his wife Rose have been involved with over a hundred different film and television productions. They have a team of birds specially trained for filming both on location and in studio situations. They also regularly train new birds for specific projects. Lloyd and Rose are the world's experts at in-flight and tracking filming with birds.

With wildlife cameraman Jonathan Watts, they have developed the world's first on-board, high definition, mini-cam, which can be seen in action below on "Tilly" the Golden Eagle.

He and his wife Rose train and provide birds for all aspects of film-making. Their birds have appeared in BBC series such as BBC1's Wildlife on One and Ultimate Killers, BBC2's Natural Worlds, David Attenborough's Life of Birds, CBBC's Really Wild Show, and a long list of other films.

Lloyd Buck's thorough wildlife knowledge makes him a popular and ideal keynote or conference speaker.
You may also be interested in...