Lily Allen
British singer songwriter and style icon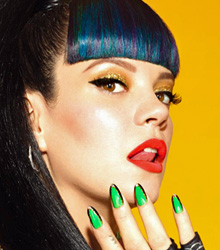 About
Having left school at 15 to pursue performing, British recording artist Lily Allen shot to fame in 2005 after becoming one of the first pop stars to emerge through social media, developing a huge fan base via the now defunct MySpace.

She released her debut album, Alright, Still, in 2006 and around the same time started collaborating with Mark Ronson and Greg Kurstin. Her songs from the album, Smile and LDN, were two of the biggest anthems of the summer. Entertainment Weekly named it one of the Top 10 albums of 2006, despite it not having been released in the US. It sold over 2.6 million copies worldwide and brought Allen a nomination at the Grammy Awards, Brit Awards and MTV Video Music Awards. She began hosting her own talk show, Lily Allen and Friends, on BBC Three.

London-born Allen is also famous for being the daughter of rebellious comedian and actor Keith Allen; so she was never destined to be a conventional pop star. Whilst Lily Allen didn't care much for the academic aspect of school, she did cultivate a strong love for music, taking singing lessons and playing piano, violin, guitar and trumpet. Aged 11, a teacher who overheard her singing an Oasis tune told Lily that she was talented and suggested that she pursue music further. During her teens the privately educated self-styled 'chav' was expelled from several schools, but she soon learnt to channel her inherited rebellion into shaking up the British music scene… and she did so with aplomb.

Lily was initially signed to Warner Music in 2002, thanks to her father's connections but when the executive who had signed her left the label, the rest of the company lost interest in her. The folk songs that they had presented to her remained unreleased. So instead she studied to become a florist, but soon changed her mind and returned to her passion for music. Signing with Regal Recordings in 2005, the label had very limited resources to promote her as an artist, so Lily took matters into her own hands; posting demos on MySpace, which soon attracted thousands of followers and brought her mainstream media attention.

The first single – The Fear – from second album It's Not Me, It's You hit the airwaves in December 2008, shot to number one and earned the pop star two Ivor Novello gongs.

Aside from her love of music, Lily Allen quickly became known for her quirky dress sense; her prom dress and trainer combination was a staple look, however she regularly showed fashion critics that she could also do high glamour just as well. Regularly seen in Luella, Giles and Chanel outfits, Allen's first fashion collaboration was in 2007 when she teamed up with New Look to release a clothing line, Lily Loves — a collection of dresses, jewellery and footwear, all inspired by her own style. She has since gone on to partner with the likes of Karl Lagerfeld and Chanel, then releasing her very own jewellery collection in 2009 which included coin, animal and fruit-inspired pendants and earrings.

Having taken a hiatus from music in 2009 to concentrate on raising a family and develop other business interests, Lily Allen announced her return to the music scene in late 2013, working on her third studio album which was later titled Sheezus, and was released in the summer of 2014. Her fourth album, No Shame, was released in June 2018.
Books and DVDs
Clients often ask about purchasing books for giveaways and delegate packs. Below you'll find a selection of products by Lily Allen. Click the images to view on Amazon's website. For bulk orders, please speak with your Booking Agent.
You may also be interested in...