Kelly Brook
Actress, model and television presenter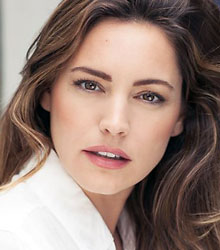 About
Kelly Brook, has successfully established herself as a versatile and talented actress, presenter and model. Kelly attended the Italia Conti stage school from the age of 13, where she studied dance, drama and singing for 3 years. At 16 she began her modelling career and has featured on the front cover of numerous magazines including GQ, FHM, Maxim, Sky, Cosmopolitan, Hello, Tatler, The Face and Company. Kelly has been in the top 5 sexiest women in most high profile men's magazines.

In 1995 Kelly won her first advertising campaign for Lee jeans. Since then she has featured in print campaigns for Renault Mégane, Walkers, Piz Buin and Kit Kat. In 1998 she launched the biggest bra campaign ever for Triumph's Flaunt range, and was featured on billboards nationwide.

TV presenting work has included co-presenting Britain's most popular morning show, Channel 4's The Big Breakfast and MTV's live two-hour show Select. Kelly was also the main presenter on VPL, a magazine lifestyle programme for Granada, and she hosted the last gig at Wembley Stadium in July 2002 for Sky Premier's Oasis Live at Wembley.