Justin King
CEO, Sainsbury's PLC (2004-2014)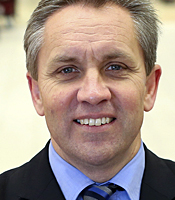 About
Justin King preceded over J Sainsbury PLC as CEO for a decade between 2004 and 2014, during which time the retail giant enjoyed nine successive years of annual profit growth and grew from 583 stores to more than 1150. He also served as Chairman of its Operating Board and Chairman & Managing Director of Sainsbury's Bank plc.

Throughout his 10-year tenure at the helm of Sainsbury's, Justin King's mission was to "get the basics right". In his first year running the supermarket, he'd inherited a huge £3 billion financial investment in an IT infrastructure that, by-all-accounts, didn't work. Simply put, the shops didn't have produce on the shelf that customers needed. He fixed the system and ensured shelves were well-stocked. It was the first sign of his 'making the basics work' mentality.

And so, whilst Tesco has been unsuccessful in its attempt at expansion into foreign markets — particularly its desire to penetrate the US retail market — Justin King had no such delusions of grandeur - he was given a company in the doldrums, and was focused on fixing it. By contrast, Justin looked to expand inwards instead.

Convenience was paramount to this inward expansion. When Justin King joined Sainsbury's in 2004 the company was increasing national floor space by around 2% a year. By the end of 2005 he'd pledged to double that, then four years later pledged to double it again, all the while ensuring Sainsbury's remained competitive in the online marketplace. And for 36 consecutive quarters sales continued to grow.

Now a third of the UK population are within a 15-minute drive of a Sainsbury's branch, and for the fourth year in a row Sainsbury's was named convenience chain of the year. Justin King left the company with more smaller stores than supermarkets, having managed to foresee that the way Britons shop has changed. People live busy lives - we need convenience.

A strong focus on own-brand food also paid off for Sainsbury's - its 2013 sales showed that its Taste the Difference and By Sainsbury's ranges were outselling branded food two-to-one. Traditionally, Sainsbury's has always been thought of as selling slightly higher quality produce, which limited its customer base. In 2003, less than 10% of the working-class and unemployed population shopped there. The implementation of Sainsbury's Brand Match policy widened its appeal without putting off its core audience. So it was no surprise that in 2013, ten years later, Sainsbury's was named the Retail Industry Awards 'Supermarket of The Year'.

Consumers of today continue to value quality, freshness and provenance when choosing where to shop. Justin King's legacy at the supermarket is that Sainsbury's has a clearly differentiated offer, based on quality own-brand products, sourced with integrity, priced fairly and labelled transparently, and supported by a great in-store experience.

In 2007, Justin King received an honorary doctorate from Bournemouth University, then in 2009 he was also awarded an Honorary DBA (Doctor of Business Administration) from the University of Bath. He was appointed Commander of the Order of the British Empire (CBE) in the 2011 Birthday Honours for services to the retail industry. Justin is an ambassador for The Scout Association.
Speech Topics
Justin King is an exemplary speaker who takes his audience on a captivating journey with stories, anecdotes and candid insight into his outstanding career, culminating with a decade at the helm of J Sainsbury PLC.

Audiences will hear first-hand from Justin the anatomy of turning an organisation around and how he achieved it with Sainsbury's. He talks about leadership and his specific views on the subject including his 10 'C's of leadership; his favourite of which is 'Culture' — how you as a leader play your part in shaping the culture of an organisation and how, all too often, there is a cultural inability to embrace innovation and change.

He is also keen to talk on other related topics including business growth, corporate social responsibility, innovation, corporate turnaround and customer service.
You may also be interested in...