Nick Jenkins
Founder and CEO of Moonpig.com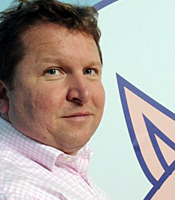 About
Entrepreneur Nick Jenkins founded Moonpig.com in July 2000 after spending eight years working in Moscow as a commodities trader. He returned to the UK in 1998 and, keen to start his own business, Nick wanted to harness the capability of the web to sell something that simply wasn't available on the high street.

While studying for an MBA at Cranfield, the idea for Moonpig.com stemmed from a process of eliminating various other business models, and using the internet to make a better greeting card than the high street retailer by combining personalisation and great content. The fact that ecommerce was still in its infancy made an online venture more appealing. Nick comments, "I decided that if I was going to start a business I didn't understand, it might as well be something that no one else understood either".

Nick Jenkins' instincts proved fruitful. He spotted his opportunity while buying greeting cards – he'd Tipp-ex out the card's caption and write in one of his own. Allowing customers to create their own cards over the internet was his brainwave. In 1999, he bought some factory space in Lotts Road, Chelsea, at £25 a square foot and put £160,000 of his own money into the business. Having hired a web company and recruited a printing specialist, in August 1999 Nick signed up greetings card publisher Paperlink as an investor. In return, they gave Moonpig.com the rights to sell its card designs online.

The original launch of Moonpig.com in 2000 coincided with the collapse of the dot-com bubble which meant progress was difficult at first, but the company raised further investment from private investors and venture capital, and the advent of broadband and digital cameras together with news spreading by word-of-mouth meant sales steadily increased, with the first profits being made in 2005, after five years and four rounds of fundraising. Moonpig.com had created a new sector within the greeting card industry.

Nick Jenkins had no marketing budget, so during the first six years, 90% of sales came by word of mouth. It took five years just to break even, but it taught him a valuable lesson – that the most important part of marketing is getting the product right. If you have a good product, it will sell itself.

In 2007 Moonpig.com was responsible for over 90 percent of the online greeting card market in the United Kingdom — its current domination in the sector is the result of brand recognition reaching critical mass and a decade of honing the efficiency of its IT infrastructure. And by February 2008 it had over three million customers, selling 12 million cards a year and is now one of Britain's fastest growing companies. In that same month it also received more internet traffic than other flower and gift companies in the UK. It's profit record was seen by The Times as "a typical curve for a successful start-up — a big, £1 million loss establishing it in its first year, negligible losses edging into negligible earnings over the next six years, and thereafter a seven-figure profit".

Despite having chaired Moonpig.com for over ten years, Nick Jenkins maintains the same work ethic and excitement for his job than when he first started out, "it's great, and for me, there is no distinction between running your own business and fun".

Moonpig.com expanded into the Australian market in 2004, and in 2010 it launched in the United States. It was purchased by Photobox in 2011 for £120 million.
Speech Topics
The biggest challenge facing Nick Jenkins when he started Moonpig.com was a common one, funding. He was "lucky enough" to have some money of his own but it took a further 6 months of fundraising from banks, friends and investors to find the rest.

In his humorous and insigntful business keynote presentations, Nick Jenkins gives the "real inside story" of what you need to do to fund and grow a new start-up business. He advises anyone thinking of starting up to "make sure you raise enough money, how ever long it takes because I, like others before and since, underestimate the amount you need to get the business trading profitably."

Nick Jenkins' keynote speeches and business presentations include:
• Business Growth and Funding
• The Power of Advertising
• The Story of Moonpig.com
• Entrepreneurship