Junior Simpson
Stand-up comedian and actor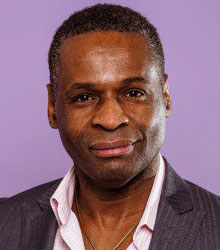 About
Since appearing on the comedy scene, Luton's lapsed choirboy Junior Simpson quickly established himself as a true 'tour de force' as a live performer as well as a highly sought after and regular face on television.

With his infectious energy and huge stage presence, Junior Simpson has a boundless joy and exuberance that has audiences hooked with hilarity. A true observational comic Simpson finds his humour in the everyday and humdrum with anecdotes of his world travels as a comedian adding a personal originality to his set. Although mischevious and daring, Simpson is never crass or crude and can tailor his set to suit any audience making him a favourite for warm up, TV and corporate engagements.

Junior has performed in countless festivals including… Leeds Comedy In The Park, Carling Weekend, Reading Festival, Leeds Festival, Brighton Festival, Guilfest, Edinburgh Festival Fringe, Leicester Comedy Festival, Birmingham Comedy Festival, Liverpool Comedy Festival, Ealing Comedy Festival and the Vodacom Funny Festival (Cape Town).

He has also made numerous television and radio appearances including Richard & Judy, Never Mind The Buzzcocks, and The 11 O'Clock Show. He has also been a warm up artist for many television shows such as I'm Alan Partridge, The Ali G Show, Never Mind The Buzzcocks, The Sketch Show and Dead Ringers. Junior has also made guest appearances in films such as Love Actually (Dir Richard Curtis), Don't Stop Dreaming (Dir Dildar Singh) & High Heels & Low Lifes (Dir Mel Smith).
Testimonials
Just a quick message to thank Junior for his work last night. Really appreciated his contribution. It all worked a treat.
A pleasure, I would definitely use Junior again, great with difficult audiences! It went really well... Junior was a perfect match for the audience. He did a perfect job filling in the gaps and getting the crowd motivated and waking them up after the slightly longer than we would have wanted presentations! He was charming throughout and a pleasure to work with.
You may also be interested in...