Daliso Chaponda
Malawi's finest stand-up comedy export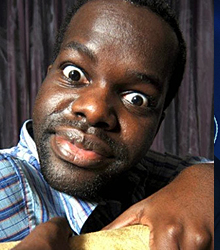 About
The first stand-up comedian to reach the finals in Britain's Got Talent's 11-year history, Daliso Chaponda began his comedy career in Canada with the acclaimed one man show 'Feed This Black Man'. Following this, he began honing his craft in comedy clubs across the country. Highlights included appearing on the Trans Canada Comedy Trail TV show and performing a one-man character comedy about a torturer titled 'Incisions'.

Before leaving Canada, Daliso - originally from Malawi - appeared in the 2005 Just For Laughs Comedy Festival and he used this exposure to secure an agent in South Africa. After 6 months touring the South African comedy scene he moved to England. He is a versatile comedian and in one week performed a set in Silhouettes Strip Club in Birmingham and then, two days later, was performing at an all-ages event about faith and family at the Greenbelt Christian Festival. Daliso has also been known to jump on planes and tell jokes anywhere on the globe - even on the planes - whether the passenger next to him wants to listen or not! He has been part of the Melbourne, Edinburgh and Cape Town Festivals.

Now based in Manchester, Daliso Chaponda regularly appears in comedy clubs, theatres and at corporate events across the UK and is also an excellent club and corporate MC..

In 2017 Daliso reached the final of Britain's Got Talent after being given Amanda Holden's golden buzzer, and was placed third behind winner, musician Tokio Myers, and runner-up magician Issy Simpson. Simon Cowell commented of his performance "I have to tell you something, you are one of the funniest people we have ever had on this show. I love the fact you are so fantastically non-PC and I think that's part of the reason why people like you so much."

In addition to stand up comedy, Daliso Chaponda is also a writer, having published science fiction, murder mysteries and fantasy fiction in numerous magazines and anthologies. In 2002 he was a finalist in the L. Ron Hubbard Writer's of the Future Contest and in 2006 he was short listed for the Carl Brandon Society Award. More recently, a play he co-wrote aired on BBC Radio 4.
Testimonials
A wonderfully animated comic. Full of extravagant gestures and impassioned speeches. He inspires whoops and cheers from his watchers. Highly recommended.
With his frank delivery, accent and cartoonish voice, he has a unique and endearing stage presence.
You may also be interested in...