Jools Holland
Jools Holland and his rhythm and blues orchestra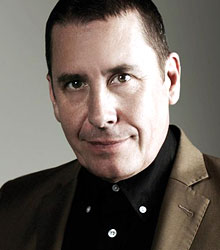 About
Jools Holland was born with an unusual musical gift: at the age of eight, he could play the piano fluently by ear and by the time he reached his early teens he was proficient and confident enough to be appearing regularly in many of the pubs in South East London and the East End Docks.

In 1987, Jools formed The Jools Holland Big Band comprising entirely of himself and Gilson Lavis. This has gradually metamorphosed into the current 18-piece Rhythm & Blues Orchestra, which currently consists of: one pianist; one drummer; two female vocals; one guitar; one bass guitar; one organ; two tenor saxophones; two alto saxophones; one baritone saxophone; three trumpets; and four trombones.

Jools and the Rhythm and Blues Orchestra now play an average of 100 live shows a year, touring Britain and the world to audiences of 500,000.

Jools' career as a television presenter has run parallel to his musical career. He started in the early eighties when he interviewed the Police for a documentary made while recording at George Martin's Montserrat studio. Soon after, Jools auditioned to become co-presenter with Paula Yates of The Tube, which was granted almost immediate cult status, discovering a whole new generation of musicians and comedians between 1981 and 1986.

After presenting two series of Juke Box Jury in 1989 and then 26 shows of The Happening in 1990, Jools was asked in 1992 to host a new music programme for BBC2, which combined his talent and experience as a musician with his skills as an interviewer. Later...with Jools Holland has re-awakened the innovative spirit of The Tube, is now in its 25th series, and has been running for 13 years.

In June 2003, Jools' achievements were formally recognized when he was awarded the OBE in the Queen's Birthday Honours List.
Books and DVDs
Clients often ask about purchasing books for giveaways and delegate packs. Below you'll find a selection of products by Jools Holland. Click the images to view on Amazon's website. For bulk orders, please speak with your Booking Agent.
You may also be interested in...