Jenni Falconer
Popular and established television presenter (GMB, Holiday, National Lottery)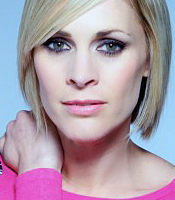 About
Jenni Falconer was born in Glasgow where she lived until the age of seven, at which point her family relocated to the South of England. In 1994 she moved to Leeds to attend university, majoring in Spanish and Italian, with minors in Latin, Geography and Management Studies.

Jenni's break into television occurred during her first term when work experience at a local radio station coincided with a memorable appearance on Blind Date (she picked Donda, the 18 stone Fish n Chip Shop owner!). Together, they led to a presenting opportunity with Les Clips, a BBC Scotland production, which was transmitted on her 19th birthday.

In 1995 she became the co-presenter of BBC Scotland's outdoor and leisure series, The Big Country and was involved with the show throughout its three-year duration. Television did not manage to take her away from student life and she commuted to and from lectures as required.

In 1997, whilst still at university, Jenni Falconer began presenting twice weekly strands on the regional magazine show Tonight. A contract with Yorkshire Television soon followed, including becoming a reporter on ITV's live consumer show, We Can Work It Out and3D.

1999 & 2000 saw Jenni co-present We Can Work It Out whilst also narrating the second series of the highly successful Pleasure Island for the ITV Network in 2000. In 2001, she joined the BBC1 flagship programme Holiday, and also reported for the BBC 2 watersports show Aqua.

She joined GMTV in September 2000 where she anchored Entertainment Today (2000-2008), GMTV's showbiz entertainment show with Ben Shephard. This gave Jenni the opportunity to interview the likes of Nicole Kidman, Daniel Craig, Tom Cruise, Justin Timberlake, Leonardo Di Caprio, Johnny Depp, Kate Winslett, Martin Scorcese and Clint Eastwood…

Whilst continuing to host Entertainment Today, Jenni Falconer travelled the world in five star luxury filming for the prime time holiday series How to Holiday (ITV1). She also presented a number of film specials for ITV1 including, amongst others, Harry Potter, The Aviator, War of the Worlds & Mission Impossible 3, Finding Neverland plus hosted the live ITV2 coverage of The Television BAFTAs and British Soap Awards.

In 2005, Jenni hosted the 3 hour live coverage of the Tsunami Concert (Five)with Dave Berry, followed by the Scottish Tsunami Concert with Robbie Coltrane. In September 2005 she co-presented Britain's Worst Celebrity Driver (FIVE) with Quentin Willson and in April 2006 hosted Hollywood Grand Prix for Sky One - an exclusive access all areas look at the annual Long Beach Pro / Celeb Grand Prix (including training with Vinnie Jones as he prepares to race).

Jenni Falconer became the new face of The National Lottery in Sept 2006, hosting two new unique shows for them (Saturday and Wednesday evenings, BBC1). Autumn 2007 proved to be busy one! Entertainment Today (ITV1) returned for its eighth series in September. At the same time, she hosted The National Lottery Awards with Dale Winton for BBC1 and continued to host the National Lottery Draws for BBC1 and in October 2007, Jenni took over as "Ring Master of the Big Top" when she hosted the hit TV show, Cirque de Celebrite Two for Sky1.

Over Christmas 2010 Jenni fronted a heart-warming show called Jenni's Secret Santa where she made the wishes of some inspirational individuals come true. Jenni continues to be a regular down at National Lottery HQ and recently also presented another series of Fantasy Homes By The Sea.
You may also be interested in...