Jamiroquai
British funk and acid jazz band fronted by Jay Kay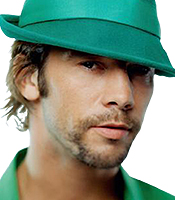 About
Born in Manchester, but brought up in East London by his jazz-singing mother, it was in 1992 that Sony's S2 label (now SonyBMG) took a gamble and signed Jay Kay's band Jamiroquai, for an extraordinary eight album deal.

Back in 1992 Jay Kay was a skinny white kid with a skateboard, a passion for vintage rare groove, opinions about the world and mankind, a bizarre 'Buffalo' hat and living in humble accommodation in Ealing. With over twenty million albums sold in 2006, four world tours and 141 weeks on the UK singles chart later, Jay has gone from poster boy of the early nineties acid jazz revolution to international music icon.

After establishing himself in the UK and Europe in the early to mid nineties, Jay's funk band Jamiroquai has gone on to take Asia and the US by storm. Having successfully released 7 albums, numerous No.1 chart tracks including 'Deeper Underground' written specially for the movie 'Godzilla', and been awarded 5 MTV awards, 1 Grammy and a hosts of other prestigious awards, Jay is looked at as an international rock star with ground breaking visuals and great tunes. On November 1, 2010 Jamiroquai released their long anticipated seventh album, Rock Dust Light Star.

Recorded in Jay Kay's home studio in Buckinghamshire, it saw a return to their earlier, less pop-like sound On June 9, 2011, the band released a new track called "Smile" for free download on their Soundcloud site. "Smile" has a sound similar to that of the early albums and has been met with high appraisal amongst fans and critics alike. Jay Kay continues to support the Burma Campaign UK and the need for democracy in Burma. He is also a patron of the Captive Animals Protection Society, a charity campaigning for an end to the use of animals in circuses, zoos and exotic pet trade. He has spoken out against animal exploitation for entertainment.

In addition to his incredible music talents both in the studio and on stage, Jay Kay is recognised as one of the great style Icons of our time, having been awarded numerous GQ and Elle Style Icon Awards, worked with Hugo Boss, Diesel to name a few and notorious for his unusual head attire and unique collection of fast cars and In 2010 took part in the Mille Miglia in his Maserati A6G/54. He is also a keen enthusiast of motorbikes and helicopters.

Jay Kay has been on the Rock Dust Light Star World Tour with Jamiroquai: since June 2010 and is due to end in February 2013. Jay also competed in the Celebrity Challenge race at the 2012 Silverstone Classic finishing third behind Brian Johnson and Kelvin Fletcher.
You may also be interested in...