Bryan Ferry CBE
Singer and founder of band Roxy Music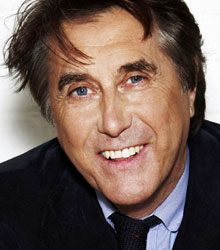 About
Bryan Ferry emerged as if from nowhere in 1972 when he launched Roxy Music on an unsuspecting but highly receptive world. The band was the ideal vehicle for his multifarious talents as composer, singer and visual artist - the wildly innovative music was presented via equally original artwork, costumes and stage shows.

Roxy Music crystallised the hippest style of the '70's, sophistication crossed with street-credibility. A series of groundbreaking albums such as For Your Pleasure and Siren and hit singles like Love Is The Drug and Jealous Guy brought the group worldwide success, culminating in the album Avalon in 1981.

Ferry, starting with These Foolish Things in 1973, has meanwhile proved himself a masterful interpreter of other composers' songs with a series of solo albums. Since Roxy Music broke up in 1982 he has blended the two strands of his career into one, variously recording pop classics and his own material on the albums Boys and Girls , Bete Noire, Taxi and Mamouna.

His album of songs from the 1930's, entitled 'As Time Goes By', was released to commercial and critical success in 1999 and was nominated for a Grammy award. Since his solo release 'Frantic' in 2002 Bryan has toured with a reformed Roxy Music and has continued with his own successful UK and International appearances. Bryan's latest release The Platinum Collection Album is in stores now.
Testimonials
Considering booking Bryan Ferry CBE for your event? You may find the following client testimonials and comments helpful. To enquire further about Bryan Ferry CBE for corporate and private bookings, click here or call us on +44 (0)1372 361 004.
The party was such a success. Bryan Ferry was just excellent and his patience with the guests after he came off-stage was admirable and most kind of him.
Books and DVDs
Below you'll find products by Bryan Ferry CBE which may be available for purchase. Click the image to view on Amazon's website. Clients often like to purchase books and other merchandise as autographed give-aways at events where Bryan Ferry CBE is appearing. For bulk purchases, please speak with the Booking Agent handling your event.
You may also be interested in...