Javier Bajer
CEO of The Talent Foundation and former Senior Executive at Accenture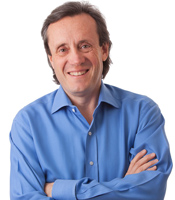 About
Javier Bajer is best defined as a Cultural Architect. He helps businesses and governments build the cultures they need to achieve their purpose.

Founding CEO of The Talent Foundation and former Executive at Accenture in London, Javier has helped many global organisations exceed their business objectives through the transformation of their cultures. He has been instrumental in the success of some of the world's largest mergers.

In addition to his business success Javier has used the same strategies with cities around the world. From the work he did with Mayor Bloomberg in New York after 9/11 to the more recent work in Buenos Aires when he was given the C40 award for increasing recycling in the city by forty per cent within a year, his efforts always deliver measurable results.

Javier's talent is to take 'good intentions', often found in values and mission statements, and turn them into sustainable habits in months, not years.
He believes that profit and purpose shouldn't conflict and that people don't have to work for an NGO to find purpose in the work lives. There is a balancing act between profit and purpose, but profit is not a purpose merely a metric of impact. In the same way leadership is not a role, but an attitude and that people have a choice between leadership and victimship; they can be shown that there is a way of engaging people beyond the carrot and stick approach.
He frequently addresses international conferences on Leadership and Culture and collaborates with the media through a variety of channels. He is a member of the Editorial Board of Strategic HR Review.

Javier advises a wide-range of institutions and organisations: from HSBC to Buckingham Palace. He is an active fellow of the RSA and a Professor of Culture Change at Business Schools in Europe and America.

Javier holds a PhD in Behavioural Change and an MSc in Neurosciences.
Speech Topics
Speaking topics:

• Culture change, how to turn good intentions into everyday behaviours in a rapid and sustainable way.
• Leadership as an attitude not a job title
• Engagement, motivating people to work in the new world
You may also be interested in...