James Munton
Magician and expert on 'the con'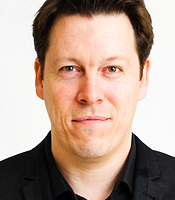 About
James Munton is one of America's most in-demand speakers on the subjects of deception, scams and cons.

James has appeared before audiences in England, Japan, Mexico and throughout the United States. Whether appearing in public or private settings, James provides a uniquely entertaining approach to educating his audience. While other children played soccer in the park, James spent his formative years in the company of London's cardsharpers learning how to be a card "mechanic". A local magician steered his talents in a more honest direction and, following an apprenticeship in the art of legerdemain, James began performing magic professionally in 1993.

Since moving to the United States in 1997, James Munton has used his entertaining, wholesome, family-orientated brand of magic to provide entertainment, marketing and training for corporations and organisations. As an expert on scams, deception and cons, he frequently appears as a keynote speaker demonstrating how we can protect our wallets and our company's profits by developing "scam sense".

James has performed on Fox and ABC Morning News and has been featured in articles in the Washington Post, Wall Street Journal and Dallas Morning News. James has performed at the White House, for the Vice President, the U.S. Treasurer, for senators and ambassadors and at hundreds of company and private events each year.

His speeches concentrate on the human side of identity theft and data breaches. For example, at the Oak Ridge Laboratory - a major US government research facility that ironically conducts research into cyber-warfare - they experienced a massive data breach because several employees clicked on a link in a simple phishing email. No amount of electronic security can protect against the weakest link - us! Because of James' background as a magician and expertise in many forms of deception, he shows the audience how easy it is to be fooled... by fooling them! This makes his presentations extremely entertaining - no PowerPoint slide shows, or a monotonous voice from behind a podium. His programs are fast-paced, interactive and very informative.

In addition to appearing before corporate audiences and at association events, James Munton has performed for Vice President Dick Cheney, Secretary of State Hillary Clinton and three times at the White House! While having a great time watching the 'show',"his audiences receive a wealth of information and learn simple methods for identifying potential fraud and safeguarding their assets.

1. The Con: How Scams Work and How to Protect Yourself
2. Breachproof: Secure your Data. Protect your People and Profits

The US Federal Trade Commission received more than 800,000 complaints of consumer fraud and identity theft representing losses of over $1.2 billion. With technological advances making fraud easier and more widespread, the chances of becoming a victim of fraud are ever-increasing.

Because James Munton believes that the best defence is a good defence, he has made it his mission to help organisations and consumers protect themselves. And although he takes fraud seriously, he also believes that learning can be fun. Packed full of helpful tips and practical advice, James' presentations are funny and informative and can be customised in length and format to meet your specific needs.
Testimonials
Thank you, thank you, thank you! And, wow! Wow! Wow! What a wonderful evening with James Munton! You really WOWED the audience at our American Airlines leadership conference last week. Your magic was an enormous hit. We've received many positive comments about your magic performance and distinctive humour. I would and will highly recommend you to anyone looking for a first class show. Thanks again for a most magical, memorable and enjoyable evening.
Thank you for coming to the White House... Your engaging performance delighted everyone... We appreciate your participation in a unique and long time White House tradition.
On behalf of the Mid-Atlantic Corporate staff we would like to thank you for the contribution you made at our IT & Security Conference. From the feedback we've received the program was a great success. Thank you for sharing your insights and expertise with our attendees. Again, many thanks for your time and effort.
Your personality, skill and knowledge of 'working the crowd' are always a wonderful addition to any gathering. I look forward to working with you on future events, and will do my best to recommend you.
The audience obviously enjoyed your outstanding performance. Your involvement certainly helped in making this a very successful event!
Mr. Munton performed at a recent company gathering of senior level executives and was the evening's highlight! Despite the fact that I hired him in the "eleventh hour," he was ever gracious and accommodating, and performed in a highly professional, talented and effective manner... He further managed to incorporate some of our company "lingo" into his performance, making it specific to the event and extra special. To say he was a hit is an understatement!
I wanted to take a moment to pass along a personal 'thank you' for the totally entertaining evening that you provided for the Association of the United States Army... Everyone forgot about their jobs, concerns, workloads, exhibitors requests and all the other stressful pressures. I want to thank you again for a most entertaining evening. You are truly a CLASS ACT sir, and we hope to use your services again in the near future.
Our staff, exhibitors, and buyers were thoroughly entertained by you last week -- in fact, they are still talking about you!
You may also be interested in...