James Freedman
Stealth crime, fraud and pickpocketing expert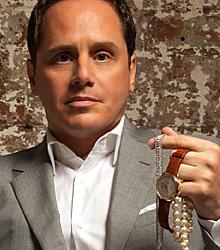 About
James Freedman is guaranteed to 'steal' your show...

An astounding entertainer who fuses unbelievable showmanship and extraordinary skills with an encyclopaedic knowledge of deception, James regularly steals the show (and almost everything else) by showing just how easily he can pick a pocket, clone a credit card or hack a phone.

After Lunch or Dinner Entertainment
Described as 'a master of the deceptive arts' and hailed as a genius by Derren Brown, it was a childhood moment of 'injustice' that drove James Freedman to a lifelong study of criminology and the psychology of thieves. He is now without doubt one of the most unusual and fascinating performers in the world today, using digital dexterity and mental agility to entertain and enlighten all kinds of audiences with unforgettable performances featuring scams, theft and fraud.

James Freedman's one-man show, Man of Steal won five-star critical acclaim at the Edinburgh Festival and enjoyed a sell-out run at The Menier Chocolate Factory Theatre before transferring to Trafalgar Studios in London's West End. Whether he's appearing in theatre shows, at private celebrations or at corporate events, James has years of experience delivering his "funny & fast fingered" entertainment.

Fraud, Scamming & Stealth Crime Expert
James Freedman has advised the Metropolitan Police and is the only person to have picked the pockets of the Mayor of London, the Chancellor of the Exchequer and the Governor of the Bank of England. In 2015, he was appointed as the UK Fraud Prevention Ambassador by the City of London Police and in this role works with police to raise awareness of modern fraud and stealth crime across the country.

James presented a regular slot on the Channel 5 series 'Police 5': demonstrating the latest scams and how to avoid them. He has made many TV appearances including This Morning, CNN International, The Wright Stuff, BBC Breakfast, ITV News & Sky News. He also works as a specialist adviser behind the camera and has taught secrets of deception to actors including Helena Bonham-Carter, Sir Ben Kingsley, Ian McKellen, Edward Norton, Robert Vaughn and Rachel Weisz. He was a special adviser on the hit BBC drama 'Hustle' and his work won an lntermedia-Globe-Silver Award at the WorldMediaFestival.

Film & TV Credits
The Real Hustle (BBC) - Pickpocket Consultant
This Morning (ITV) – Pickpocket sequences & interview to promote feature film
The Illusionist (dir. Neil Berger) - Magic Consultant and Magic teacher to Edward Norton
Oliver Twist (dir. Roman Polanski) – Pickpocket Consultant
Hustle (BBC1) – Magic, Gambling and Pickpocket Consultant
Tripp (Endemol) – Pickpocket performer and Consultant
This Morning (ITV) – Magic Consultant for hustle and con-man feature
The Big Breakfast (Channel 4) – Illusion design and Magic Presenter for magic feature
Speech Topics
James Freedman is a very versatile magician and speaker. He has performed for royalty, heads-of-state, celebrities and corporate audiences throughout the world and appears at all kinds of company conferences, exhibitions, corporate events and private parties.

His real secret? James always takes the time to find out about every event and every audience so that he can personally tailor every performance or speech to the clients' needs.

Keynote & After Dinner Speaking
James Freedman's ability to defeat hi-tech security with low-tech methods, has made him a highly sought after speaker on the subjects of crime prevention, social engineering and persuasion.

Using his performance skills and expert knowledge, James will change your awareness of risk, particularly in the growing areas of bank card fraud and identity theft. His entertaining and educational keynote presentation 'How to Commit Fraud' teaches genuine techniques used by cyber criminals and street thieves before revealing simple ways to defend against modern fraudsters.

James Freedman has shared these secrets with organisations including the Royal Bank of Scotland, HM Prison Service, the London Digital Security Centre, the Department of Trade and Industry, Coca-Cola, Sony and Microsoft.

Walkabout Pickpocket
As 'The Man of Steal', James Freedman has earned himself an unrivalled reputation as a superb magician and one of the UK's leading pickpocket entertainers.

James can appear at private parties and corporate receptions posing as a security guard, waiter or just another invitee while he mingles with your guests and exercises those special skills.

As a Member of the world famous Magic Circle, James might add some amazing magic to the demonstration while he 'hand picks' a few pockets... but don't worry, he gives it all back! Suitable for groups of 10 to 100 guests.
Testimonials
The looks of surprise as the audience realised that James was not just another company spokesman were priceless. We shall certainly find ways to use him again
I was really enthusiastic to work with James. He's one of the ultimate all-stars in his field today.
I will never forget the Inspector's face when you returned his warrant card... if he had not been laughing so much you would probably have been arrested!
Fantastic... a real professional.
You may also be interested in...