James Cameron
Academy award-winning director and explorer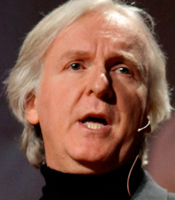 About
James Cameron is one of the most well regarded directors working in Hollywood today. With a sting of box office hits and record breaking achievements James's career never fails to surprise.

In 1984, his first directed film, Terminator, became an unexpected breakout hit. Since then, James Cameron has written, produced, and directed a number of award-winning films that have blazed new trails in visual effects and set numerous box office records, including Avatar and Titanic, which are the two highest grossing films in history.

Avatar, a 3-D science fiction epic set in the virgin ecosystem of a distant planet, required more than two years of development of new production technologies, including image-based facial performance capture, a real-time virtual camera for CG production, and the SIMULCAM system, for real-time tracking and compositing of CG characters into live-action scenes. These techniques are combined with stereoscopic photography to create a hybrid CG/live-action film. Avatar won Golden Globes for Best Director and Best Picture. It was nominated for nine Academy Awards and won three.

Two of James Cameron's passions – filmmaking and diving – blended in his work on the movies The Abyss and Titanic. The latter required him to make 12 submersible dives to the wreck itself, two and half miles down in the North Atlantic. Bitten by the deep-ocean exploration bug, James formed Earthship Productions to make documentary films about ocean exploration and conservation. He has made 72 deep submersible dives, including 33 to Titanic, logging more hours on that ship than Captain Smith himself. Of these dives, 51 were in Russian Mir submersibles to depths of up to 16,000 feet.

To bring – with unprecedented clarity – the experience of deep-ocean exploration to a global audience, James Cameron set to work on a digital 3-D camera system, which he developed with engineering partner Vince Pace.

In preparation for his 2001 expedition to the Titanic wreck, James Cameron developed revolutionary fiber-spooling mini-ROVs, as well as other deep-ocean lighting and photographic technology. His team's historic exploration of Titanic's interior was the subject of his 3-D IMAX film, Ghosts of the Abyss.

James returned to the Titanic site in 2005 to extend his interior exploration with new, smaller fiber-spooling ROVs, ultimately surveying more than 60 percent of the extant interior spaces of the ship, including imaging the stunningly intact Turkish Baths and other well-preserved examples of Edwardian elegance deep in the labyrinth of the wreck. He also made a journey to the deepest known place in the planet, the Marina Trench, a journey seven years in the making. The expedition is chronicled in the documentary Deepsea Challenge, which was released August 2014.

As an explorer, James Cameron has been equally fascinated by both outer and inner space. He has worked for years with space scientists and engineers developing viable architectures for the human exploration of Mars and has been involved with a number of robotic space exploration projects. James served on the NASA Advisory Council for three years, is an active member of the Mars Society and the Planetary Society, and remains as committed to the exploration of space as he is to the exploration and conservation of the oceans. In honor of his efforts to promote the environmental awareness, in October 2013 a new species of frog from Venezuela was named Pristimantis jamescameroni.
Books and DVDs
Clients often ask about purchasing books for giveaways and delegate packs. Below you'll find a selection of products by James Cameron. Click the images to view on Amazon's website. For bulk orders, please speak with your Booking Agent.
You may also be interested in...