James Acaster
Stand up comic and comedy writer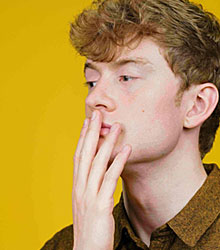 About
James Acaster is 'One of comedy's most original voices' according to the Evening Standard. In addition to a glowing stand-up career, James is also a TV and radio regular and is a favourite across both platforms. This includes appearances on panel shows such as Mock the Week and Would I Lie to You?

2017 saw James tour the country with a staggering three show 'Trelogy', when he performed Recognise, Represent and Reset consecutively over three nights in each venue. These three shows and Recap formed the Netflix four part series, Repertoire, which was the first of its kind, a stand up mini series with an overarching narrative.

Also in 2017, James released his debut book Classic Scrapes and toured the UK again to launch it. The book made the Sunday Times bestseller list and he has gone on to write his second book, Perfect Sound Whatever.

A whimsical master, he has received acclaim from around the world, including a record breaking 5 consecutive nominations for 'Best Comedy Show' at the 2012, 2013, 2014, 2015 & 2016 Edinburgh Fringe Festivals, and winning the 2015 Chortle Award for Best Show, and Best International Show Award at the 2014 New Zealand International Comedy Festival.

Alongside many of his own projects; James wrote his own sitcom We the Jury in 2016 starring Diane Morgan, Ed Easton and Sophie Thompson. He also makes things independently, a YouTube comedy series called 'Sweet Home Kettering' and a music album with his band 'Luna Dott Raids The Bee Pigeon' which is available on bandcamp.
You may also be interested in...