Sir Howard Davies
Former Director of The London School of Economics and The FSA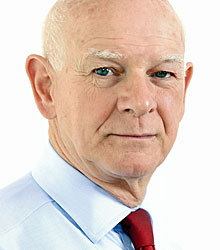 About
Sir Howard Davies is former Director of the London School of Economics and Political Science. And prior to his he was chairman of the Financial Services Authority, the UK's single financial regulator since 1998.

Howard Davies had previously served for two years as Deputy Governor of the Bank of England (1995-1997) after three years as Director General of the Confederation of British Industry. It was during this role that he was appointed Executive Chairman of the FSA (Financial Services Authority) between 1997 and 2003, merging nine independently operating agencies to create a single financial sector regulatory body.

From 1987 to 1992 he was Controller of the Audit Commission. From 1982 to 1987 he worked for McKinsey & Company in London and during 1985 -1986 was seconded to the Treasury as Special Adviser to the Chancellor of the Exchequer. He had previously worked at the Treasury and the Foreign and Commonwealth Office, including two years as Private Secretary to the British Ambassador in Paris.

Howard Davies was educated at Manchester Grammar School and Merton College, Oxford, where he gained an MA in history and modern languages. In 1979 he was awarded a Harkness Fellowship and in 1980 took an MSc in management sciences at Stanford Graduate School of Business, California. Between 2002 and June 2010 he was a Trustee of the Tate. He is a member of the governing body, Royal Academy of Music; and in 2004 was elected to an Honorary Fellowship at Merton College.

In 2004 he joined the board of Morgan Stanley as a non-executive director. He was appointed to the Board of Paternoster in 2006 as a non-executive director, and chaired the Man Booker Prize in 2007. In 2009 he became an advisor to the Government Investment Corporation of Singapore. Other non executive Directorships and appointments have included GKN plc (six years between 1989 and 1995) and the International Advisory Board of NatWest Bank Plc.

Davies extensive literary interests have extended to reviewing for The Times, The Economist and the Literary Review and regular commentary for The FT in addition to his extensive international lecturing at both Davos and the World Economic Forum.

Howard Davies is married with two sons and lives in London. In his spare time he likes to watch his football team, Manchester City, and regularly plays cricket.

Highly experienced and charming, Sir Howard Davies is in great demand as a keynote speaker at conferences around the globe.
Tags for Sir Howard Davies
You may also be interested in...