Gregg Wallace
Masterchef co-presenter and former greengrocer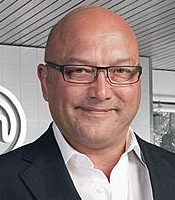 About
Gregg Wallace is a fruit and vegetable expert, writer, media presenter and greengrocer. He is probably best known for co-presenting and judging BBC 2's MasterChef and BBC One's Celebrity MasterChef along with John Torode.

Gregg Wallace was born in Peckham and began his career selling vegetables at a stand in Covent Garden. He started George Allan's Greengrocers in 1989, a company that built up to an eventual turnover of £7.5 million. Due to his success he was invited to co-present Veg Talk on BBC Radio 4 with Charlie Hicks for seven years and was the original presenter of Saturday Kitchen in 2002.

He writes regularly for Good Food and Olive magazine, and is managing director of a mail-order business, Gregg's Veg, from Hurst Farm, near Godalming, Surrey. Gregg is also co-director, with Howard Graham, of West Veg Limited, supplying fresh fruit and vegetables to the restaurant and hotel industry.
Books and DVDs
Below you'll find products by Gregg Wallace which may be available for purchase. Click the image to view on Amazon's website. Clients often like to purchase books and other merchandise as autographed give-aways at events where Gregg Wallace is appearing. For bulk purchases, please speak with the Booking Agent handling your event.
You may also be interested in...