Gina Yashere
Dynamic comedienne and television presenter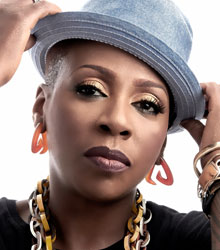 Copyright © David Burgoyne
About
This dynamic young comedienne hailing from London via Nigeria has taken the comedy world by storm since her debut. In a few short years, she has become one of the most sought after comics in the country, making numerous appearances on Television, radio and the big screen.

This former lift engineer's Edinburgh debut saw her described by the Scotsman Newspaper as 'A British rival for Whoopi Goldberg- Lively and exceptionally funny'.

From there she went from Strength to strength, securing herself as team captain on Blouse and Skirt, a BBC2 panel show that ran for 3 years. Gina developed a cult following who loved her cheeky wit and bombastic delivery. So much so, that she was able to complete a 30 date sellout tour along the length and breadth of the UK in 2000 and 2001 with more to follow.

Her infectious personality and observations on everything from TV programs to the worldwide image of Nigerians has wowed audiences not just in the UK but in places such as America, Dubai, Hong Kong, Singapore and South Africa, as well as all over Europe.

With TV credits which include 'Live at Jongleurs' (UK Gold), The Comedy Store (Channel 5), Planet Pop (Channel 4), The I love...series (BBC2), Jo Brand's Hot Potatoes (BBC1), and Up Late with Gina Yashere, Gina still found time to write several plays for BBC Radio 4 and sketches for the Richard Blackwood show on CH4.

Although primarily a comedian, Gina has now branched out into acting. She has appeared in two feature films, 'Kiss Kiss Bang Bang' as 'Polythene Pam', a murderess specialising in plastic bag suffocation and more recently 'Mr In-Between', as well as in the West End show The Vagina Monologues.

Gina has guested on numerous radio shows most notably Radio's 4 News Quiz, Radio 5 Live, London Live and Choice FM. As well as covering Lisa I'anson's afternoon show on BBC London.

To add to this seemingly endless list of achievements, recently won Best female at the Black Comedy Awards.

She is definitely a talent to be reckoned with!
Books and DVDs
Below you'll find products by Gina Yashere which may be available for purchase. Click the image to view on Amazon's website. Clients often like to purchase books and other merchandise as autographed give-aways at events where Gina Yashere is appearing. For bulk purchases, please speak with the Booking Agent handling your event.
You may also be interested in...