Professor Germaine Greer
Australian writer, academic and scholar of early modern English literature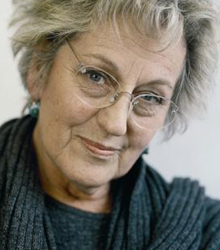 About
Germaine Greer is an Australian writer, academic, journalist and scholar of early modern English literature, widely regarded as one of the most significant feminist voices of the later 20th century.

Her ideas have created controversy ever since her book The Female Eunuch became an international best-seller in 1970, turning her into a household name and bringing her both adulation and opposition. She is also the author of many other books including, Sex and Destiny: The Politics of Human Fertility (1984); The Change: Women, Ageing and the Menopause (1991) and Shakespeare's Wife (2007).

Born in Melbourne, Australia, Greer was educated at Melbourne and Sydney Universities. In 1964 she emigrated to England where she studied at Newnham College, Cambridge, gaining her PhD in 1967.

Germaine Greer joined the student amateur acting company, the Cambridge Footlights, which launched her into the London arts and media scene. Using the pen name Rose Blight, she also wrote a gardening column for the satirical magazine Private Eye, and as Dr. G, she became a regular contributor to the underground London magazine Oz.

From 1968-1973 she lectured in English at Warwick University. This period encompassed the publication of her famous book, The Female Eunuch in 1970, which had a pivotal role in a key period for feminism. Also in 1968 she received her Ph.D. on the topic of Elizabethan drama with a thesis titled The Ethic of Love and Marriage in Shakespeare's early comedies, and accepted a lectureship in English at the University of Warwick.

Following her success with the publication in 1970 of The Female Eunuch, Greer resigned her post at Warwick University in 1972 after travelling the world to promote her book. She co-presented a Granada Television comedy show called "Nice Time with Kenny Everett and Jonathan Routh" and wrote a column for The Sunday Times. Germaine Greer has written for many periodicals and was a regular pundit on BBC2's The Late Review. She's also made frequent appearances on the BBC's satirical television show Have I Got News For You.

Germaine Greer was one of the contestants on Celebrity Big Brother (2005). She'd previously said that the show was "as civilised as looking through the keyhole in your teenager's bedroom door". - she walked out of the show after five days inside the Big Brother house. In 2006 she appeared twice in an episode of Ricky Gervais' Extras playing herself.

Germaine Greer was listed in Prospect Magazine's 100 Greatest Thinkers.
Testimonials
Considering booking Professor Germaine Greer for your event? You may find the following client testimonials and comments helpful. To enquire further about Professor Germaine Greer for corporate and private bookings, click here or call us on +44 (0)1372 361 004.
Thank you so very much for awarding the prizes at Tormead's Speech Day and for speaking to the girls and their parents. You gave all that one can ask from any address: plenty about which to think, both currently and, for the girls in particular, in the future. On a personal note, as a 50 year old woman who read English at university in the early 1980s- well, you are well aware of the impact you had on the thoughts and the lives of women of my generation- it was a delight to share some conversation. With my thanks again and very best wishes.
Germaine Greer was a wonderful, warm and engaging speaker. Knowledgeable and humorous on her subject and a joy to spend in the company of. We are glad she found the society's founder and his wife so interesting and undertook the research specific to the town
Books and DVDs
Below you'll find products by Professor Germaine Greer which may be available for purchase. Click the image to view on Amazon's website. Clients often like to purchase books and other merchandise as autographed give-aways at events where Professor Germaine Greer is appearing. For bulk purchases, please speak with the Booking Agent handling your event.
Tags for Professor Germaine Greer
You may also be interested in...