Edwina Currie
Writer, broadcaster and former politician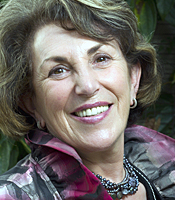 About
Edwina Currie was born and brought up in Liverpool, and attended the same school (Liverpool Institute) as Paul McCartney and George Harrison. Despite spending hours in The Cavern listening to great music, she won a scholarship to Oxford where she read Philosophy, Politics and Economics. A short stint with Arthur Andersen and a Master's degree at LSE in Economic History followed. Then for nine years she was a teacher and lecturer.

With marriage and two daughters, Edwina embarked on career no 1: politics. She was elected to Birmingham City Council and served as chairman of Housing, of Social Services and of the local health authority, all good grounding for election to Westminster in 1983 as MP for South Derbyshire.

She is proud of her role in transforming the constituency from an old coal-mining area to the home of Toyota, but is best known nationally for her years as Minister in the Department of Health under Margaret Thatcher.

She was on the first team to tackle AIDS/HIV in Britain (the "tombstones" campaign), brought in screening for both breast and cervical cancer, encouraged the public towards healthier lifestyles, and helped persuade the British to cut down smoking. In December 1988, faced with over 500 victims a week with serious food poisoning through eggs (and over 60 deaths that year), she decided to warn the public of the danger, and resigned. Subsequent reports showed she had been right.

As a backbencher Edwina Currie turned her talents to writing books. Altogether she has eleven to her name (so far!), including best-selling novels A Parliamentary Affair and A Woman's Place. Her Diaries 1987-1992 caused a stir on publication in 2002, when curious goings-on at Westminster were revealed. Ten years on, Diaries 1992 -1997, covering the last Tory government and the rise of Tony Blair, has also attracted lively comment. In 1997 Edwina lost her parliamentary seat, thus bringing to an end 22 years in elected office.

Her third career has been in the media where she is a well-known commentator, appearing on the Nolan show (BBC Radio 5), Jeremy Vine (Radio 2, Woman's Hour (Radio 4), Sky News, BBC Breakfast News etc. She presented her own radio programme, Late Night Currie for five years on Radio 5, and TV including Currie Night for HTV. She has featured in popular TV programmes including Hell's Kitchen, Come Dine with Me (twice), Wife Swap (with husband John Jones), The Chase and Pointless. She won Celebrity Mastermind in 2004, with her special subject The Life of Marie Curie, but did not do so well on Strictly Come Dancing 2011, though it was "a thoroughly enjoyable experience."

Edwina Currie lives in the Derbyshire Peak District with husband John and between them they try to keep up with a chocolate Labrador dog called George, six children, nine grandchildren and two great-grandchildren. Edwina's awards include Speaker of the Year, 1990, Association of Speakers' Clubs; Campaigner of the Year, 1994, Spectator Highland Park, for the campaign on gay rights. Fellow MP Julian Critchley said of her: "Edwina has a brass neck, a silver tongue and a golden pen." while former colleague Matthew Parris has written, "Edwina is the best communicator the Tories have."

Her varied and active involvement with government and current affairs make Edwina Currie an ideal host or speaker for conferences and corporate events.
Testimonials
On behalf of the Chairman, Executive Committee and the members of the ISBA, may I simply say an enormous thank you for taking the time to come and speak to us at our conference dinner. We certainly appreciated your most amusing speech and adroit handling of questions, which undoubtedly contributed to an outstanding dinner for our members and guests... This has been one of our most successful conferences and the feedback we have received so far from our members and guests has been enormously positive. Your after dinner speech undoubtedly helped contribute to this.
Edwina Currie went down really well and was an excellent speaker - all very happy!
The RTW Business Awards gala dinner was a great success, Edwina arrived on time and was straight to business, she engaged with all the guests and even made sure she circulated to all the tables during the dinner, she looked like she thoroughly enjoyed herself.
Books and DVDs
Clients often ask about purchasing books for giveaways and delegate packs. Below you'll find a selection of products by Edwina Currie. Click the images to view on Amazon's website. For bulk orders, please speak with your Booking Agent.
You may also be interested in...