George Galloway
Politician, orator and television personality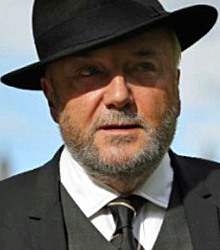 About
George Galloway is one of the most outspoken, controversial and charismatic political figures of our time. A highly respected orator, indefatigable in the pursuit of his causes and formidable in taking on his many opponents, he has ridden the political roller coaster for more than four decades.

George has taken on the US senate and won, and during his time in Parliament has served four constituencies, in two countries, and won six elections.

As early as 1981, the British press started taking an interest in this political prodigy who described himself as having been "born in an attic in a slum tenement in the Irish quarter of Dundee, which is known as Tipperary". He'd joined Labour's Young Socialists at 13, and was still in his teens when, remarkably, he was made secretary of the Dundee Labour Party.

By age 20 George was a member of the Scottish Labour Executive, and at 22 was Dundee's youngest councillor. He became chairman of the Scottish Labour Party aged 26, and by 1981 George Galloway had become one of the most articulate voices in Scotland. Before turning 30 he had become general secretary of War on Want, a charity campaigning against poverty worldwide. George remained in this post until he was elected MP for Glasgow Hillhead (later Glasgow Kelvin) at the 1987 general election.

In 1994, George Galloway faced some of his strongest criticism upon his return from a Middle Eastern visit, during which he met Saddam Hussein. Following his meeting George was dubbed the "MP for Baghdad North". However, he commented, when speaking before the US Senate in May 2005, that he had met Saddam Hussein exactly the same number of times as Donald Rumsfeld met him. Whereas Rumsfeld met him to sell him guns, Galloway had met him to try to bring about an end to sanctions, suffering and war.

Expelled from the Labour Party in 2003, over his opposition to the war on Iraq, George Galloway remained an independent MP. He joined forces with the Socialist Workers Party and others to create Respect–The Unity Coalition in 2004, winning the Bethnal Green and Bow seat during the 2005 general election, and serving one parliamentary term. When George took the seat by 823 votes, in an abrasive race against Labour's Oona King, it was the first time since 1951 that a party avowedly left of the Labour Party had won a seat in the Commons.

The east London seat, like Bradford West, had a high proportion of young Muslims who admired Galloway's uncompromising opposition to the Iraq war. Despite, at the time, being slandered, smeared and eventually expelled from the political party in which he had spent most of his life, George Galloway's vindication came quicker than even he could have imagined, as no one now believes the Iraq war was justified.

In 2006, he controversially appeared on Celebrity Big Brother, under the illusion it would allow him to relay his political views to the show's vast audience. However, most of George's political remarks were edited out, and all that most viewers remember is him pretending to be a cat and mimed licking imaginary milk from the cupped hands of fellow housemate, Rula Lenska.

George Galloway returned to politics at the Bradford West by-election in 2012, but lost his seat at the 2015 general election. He then stood as a candidate in the 2016 London mayoral election, but lost to Labour Party nominee, Sadiq Khan. In the 2016 EU referendum, he advocated a Leave vote, campaigning with cross-party, pro-Brexit organisation Grassroots Out.
Speech Topics
George Galloway is widely acnowledged as an exceptional orator, to which even his fiercest adversaries have given him due praise and appreciation.

Highly in-demand for both after dinner and keynote speaking engagements, George also has vast experience of presenting and hosting, both on television and radio, which translates effortlessly to the arena of corporate conferences and symposiums.
You may also be interested in...