Geoff Ramm
Customer service and marketing speaker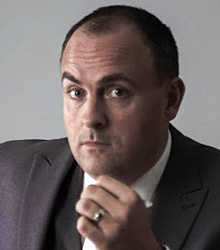 About
Geoff Ramm, the creator of Celebrity Service and OMG Marketing, knows the only way you can attract more customers is to create jaw-dropping marketing. Not only that but great customer service leads to lucrative, repeat business.

So how do you create highly successful marketing ideas? And how can you design a customer experience that has you talked about for decades to come?
Geoff knows the Jedi Mind Trick to make you craved by your customers, envied by your competitors and raved about in your industry.

In his interactive keynotes, your team will not only discover out-of-this-world ideas, they will come up with them and be excited to implement them too. Companies across six continents have outperformed their compeittors by using Geoff 's unique insights on customer service and marketing.

Geoff Ramm's on-stage presence will have you on the edge of your creative seats.

Inspire your team. Engage your attendees. Excite your customers.
Books and DVDs
Below you'll find products by Geoff Ramm which may be available for purchase. Click the image to view on Amazon's website. Clients often like to purchase books and other merchandise as autographed give-aways at events where Geoff Ramm is appearing. For bulk purchases, please speak with the Booking Agent handling your event.
You may also be interested in...