General Sir Peter Wall
Former Chief of the British Army (2010-2014)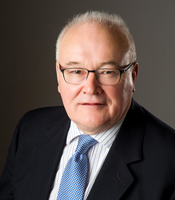 About
General Sir Peter Wall completed a 40 year career in the British Army in 2014,rounding off his final 4 years as Chief of the General Staff, the professional head of the British Army. Peter has led the Army through the most significant transformation programme for a generation, following the 2010 Strategic Defence and Security review whilst sustaining its operational focus in Afghanistan.

He has extensive experience of dealing with British and foreign governments at the highest levels, and a proven track record in the strategic leadership of large and complex organisations, including motivating people, leading strategic communications and sustaining institutional reputation.

Sir Peter Wall started out in the Royal Engineers serving in Belize, Hong Kong, the Falkland Islands and the Balkans. He was also closely involved in all aspects of the Iraq and Afghanistan campaigns. Speaking in public to large audiences, and equally to more private gatherings in a social context has been a core part of his skillset as a senior leader in the Army. Sir Peter Wall is also frequently featured in the media, making numerous appearances on TV and Radio such as BBC Radio 4, BBC Newsnight and the Daily Telegraph.

Sir Peter Wall is President of Combat Stress and Chairman of the Gurkha Welfare Trust. He is a visiting professor at the Strategy and Security Institute, University of Exeter. He is also co-founder of Amicus, a strategic leadership consultancy.
Speech Topics
General Sir Peter Wall is a sought-after speaker for conferences and seminars. He can talk easily and with a great deal of experience on the following subjects:

Strategy, resilience, leadership, crisis management, effective running of an organisation, communications at CEO level, military, teamwork, change management, achieving peak performance, sustaining excellence, learning lessons, building and protecting reputation and managing the media.
Tags for General Sir Peter Wall
You may also be interested in...