General Sir Mike Jackson
Chief of the General Staff of the British Army (2003 - 2006)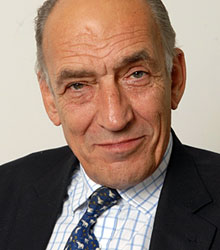 Copyright © Crown Copyright
About
Sir General Mike Jackson has had an extraordinarily distinguished military career spanning almost 45 years - from officer cadet to Chief of the General Staff, the highest level of the British Army.

In this role, Jackson commanded the British Army during the war in Iraq from 2003-2006. He has commanded on operations at almost every level, in Northern Ireland, Bosnia and Kosovo. Jackson has served in numerous parts of the world, from the arctic to the jungle.

His book, Soldier: The Autobiography, takes you through his illustrious career in the British Army and exemplifies his loyalty, courage and commitment to the British army. His drive, enthusiasm and dominating personality were always popular with his soldiers and drove him to the top of his profession. The book exhibits all the qualities for which Jackson is admired: his professionalism, honesty, directness, exuberance and sense of humour.

Since leaving the Army General Sir Mike Jackson has accepted several consultancy and advisory positions with such notable organisations as PA Consulting Group, Numis Securities, Rolls Royce, The International Red Cross and The Risk Advisory Group, among others.

At the podium, General Mike Jackson employs his unique military and political expertise to relate world events to current business strategies. Jackson draws on his experiences as an Army leader, sharing with audiences what it takes to create an effective team, and identifies the leadership skills necessary to successfully lead it. His experience on the international stage also allows Jackson to provide audiences with a unique view on the conflicts and tensions shaping the world today.

General Jackson was educated at Stamford School, the Royal Military Academy, Sandhurst, Birmingham University, and the Staff College. After a six month course at the National Defence College at Latimer in 1981, he joined the Directing Staff at the Staff College. His two and a half year tour at Camberley included a ten week attachment to the Ministry of Defence during the Falklands conflict. He also served as the Senior Directing Staff (Army) at the Joint Service Defence College, Greenwich. Following the Higher Command and Staff Course at Camberley in early 1989, he then spent six months on a Service Fellowship at Cambridge writing a paper on the future of the British Army.

He is married to Sarah, and has two sons, a daughter and four grandchildren.
Tags for General Sir Mike Jackson
You may also be interested in...