Felix Baumgartner
Record breaking skydiver and BASE jumper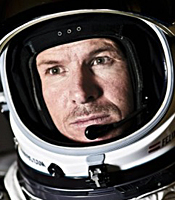 About
On October 14, 2012, Austrian base jumper Felix Baumgartner broke three World Records: the first human to break the sound barrier without the assistance of a vehicle, the highest manned balloon flight, and the highest skydive.

In the Red Bull Stratos mission, Felix jumped 24 miles above earth, reaching a velocity of 843 mph before landing on his feet in eastern New Mexico nine minutes later. Eight million people watched the live streaming event making the jump the most watched live event ever on YouTube.

Felix Baumgartner's original claim to fame was his free fall "flight" across the English Channel in 2003. Jumping from an aircraft at more than 32,000 feet over England, in a custom-built jumpsuit and helmet Felix reached speeds of 220 miles per hour, completing the 22-mile free fall to France in six minutes.

In 1997, Felix won the overall BASE jumping championship at West Virginia's Bridge Day. His 1999 jump from the Petronas Towers in Kuala Lumpur established a new world record for highest BASE jump from a building. He also completed the lowest BASE jump from Christ the Redeemer statue in Rio de Janeiro, the highest span jumping from the Millau Bridge in France and the highest jump from a building at Taiwan's Taipei 101 tower.

Felix Baumgartner has transitioned his training to a new thrill: Audi Motorsport. In 2014, he joined Audi Motorsport, driving an Audi R8 LMS, and competing in the endurance racing event, 24 Hours Nürburgring. After intense physical and driver training, he led the team to a respectable 9th place finish.

Outside of his penchant for daredevil acts, Felix Baumgartner was awarded the 2012 BAMBI Award in the category of "Millennium," the Laureus World Sportsperson of the Year Award, and named the National Geographic Adventurer of the Year for his unique achievement.

Felix has also been named on Vienna's Street of Champions.
Video
Click below to watch video footage of Felix Baumgartner. To enquire further about Felix Baumgartner for corporate and private bookings, please click here or call us on +44 (0)1372 361 004.
Books and DVDs
Below you'll find products by Felix Baumgartner which may be available for purchase. Click the image to view on Amazon's website. Clients often like to purchase books and other merchandise as autographed give-aways at events where Felix Baumgartner is appearing. For bulk purchases, please speak with the Booking Agent handling your event.
Tags for Felix Baumgartner