Shaun White
Olympic snowboarder, skateboarder and lifestyler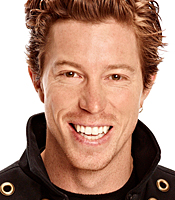 Copyright © Mitchell Haaseth
About
Shaun White is many things but most notably he's driven. He holds many of the highest accolades within snowboarding and skateboarding. An X Games double threat with medals in both snowboarding and skateboarding, as well as gold medals from the 2006 and 2010 Winter Olympics, Shaun possesses insane skills.

Lifestyler, snowboarder, skateboarder, Olympian, musician…Shaun possesses an arsenal of titles, all of which play into his dynamic persona. He does it best, by doing it different. "Whatever it is, be yourself."

Born in San Diego, California in 1986, Shaun White endured two major surgeries to correct a heart defect before he was 1 year old. Despite this challenging start Shaun proved he was far from frail, charging into sports like surfing, soccer and snowboarding at a young age.

Shaun grew up in a family of five and one of the family's favorite pastimes included skiing. At the age of 4, Shaun proved to be fearless on his skis racing down the slopes with older brother Jesse. In an attempt to slow down Shaun when he was 6, his mum decided to put him on a snowboard and instructed him to copy everything Jesse did. Unfortunately for her, it only encouraged Shaun to go faster.

While Shaun was being lauded as a snowboard prodigy, in the summertime he was simultaneously turning heads on the skateboard scene. Professional skateboarder Tony Hawk befriended the 9-year-old at a skate park and mentored the up-and-comer, encouraging Shaun and helping him turn pro at the age of 17. Participating in both sports was far from usual, but for Shaun this duality helped excel his progression.

In 2003 he became the first athlete ever to compete and medal in both the Summer and Winter X Games in two different sports. In 2007, Shaun set unparalleled standards by winning the overall title and prestigious honour of Action Sports Tour Champion.

In the 2006 qualifiers for Torino, Shaun went undefeated with 12 victories that season, becoming the first athlete ever to sweep the five-event US Grand Prix series, which serves as the Olympic qualifiers. Shaun White became a household name after winning gold in the Halfpipe. Shaun shows no sign of letting up on the competition, taking on the world in contests leading up to the 2010 Winter Olympics. Shaun wanted to pull out all the stops and introduce new tricks to the snowboard world this year, debuting the first ever back-to-back double cork variations at the Burton New Zealand Open in August '09. He defended his gold in Vancouver, earning his second gold medal in the Halfpipe.
Since placing fourth at the 2014 Sochi Olympics, Shaun has focused on his music career, touring with his band Bad Things.

In addition to his athletic talents, Shaun has a knack for business. By partnering with companies that he thinks are cool, Shaun has been able to reach out beyond his sport and has embraced the position of brand ambassador for companies such as Burton, Target, and Ubisoft.
You may also be interested in...