Ann Daniels
Polar explorer - an ordinary woman who has achieved the extraordinary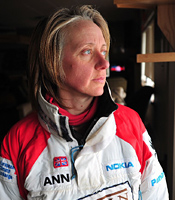 About
World record breaking polar explorer Ann Daniels is an inspiration to those who hear her speak. She has led expeditions in the most hostile environments on earth, literally to the very top and bottom of the world, where strong leadership and teamwork are essential to achieve results in a world that is always challenging and the terrain ever changing.

Ann is one of the world's leading female polar explorers. In 2009 she took part in the Catlin Arctic Survey, a 3 month pioneering expedition to help determine the lifespan of the Arctic Ocean's sea ice cover. As navigator, pathfinder and head of ice operations she led the ice team from the front for 74 days, making difficult decisions in the most extreme environment on earth. There has been significant global coverage of the expedition, the results of which were taken to the UN Climate Change Conference in Copenhagen - December 2009.

Previous to this Ann was part of the first all women's relay to the North Pole, walked across the most inhospitable continent in the world to reach the South Pole and in 2002 put together the most daring and extraordinary expedition to walk from Canada, across the Arctic Ocean to the North Pole. Despite the most appalling conditions, 3 major storms, carbon monoxide poisoning, frostbite and wet gangrene Ann and her fellow team mate beat the odds and reached the North Pole to become the first women's team ever to reach both poles on foot. She also leads adventure travellers on last degree expeditions to the North Pole.

Ann is a leader of men and women at the ends of the world and gives presentations on leadership, teamwork, motivation and environmental issues, tailoring every speech to her audience bringing out the key elements that are important to the event.
Testimonials
What a speaker. We were spellbound with your fantastic and interesting presentation. You left us all feeling we could achieve that little bit more.
Thought yesterday was brilliant – you could tell everyone was captivated – you could hear a pin drop. I thought Ann was an inspiration to us all. I thoroughly enjoyed her talk.
Thank you for a superb and inspirational presentation. You are an example of what can be achieved through personal motivation and dedication.
What a speaker. We were spellbound with your fantastic presentation. You left us all feeling we could achieve that little bit more.
A brave and stoic explorer.
Her energy, belief and determination is inspiring. She is living proof that humans really can reach new peaks.
A wonderful example of determination and true British grit.
Ann's presentation on leadership was fantastic. Our office is still talking about how to deal with their own 'Polar Bears' three weeks after the presentation.
You may also be interested in...