Dr Shini Somara
Science, technology and innovation journalist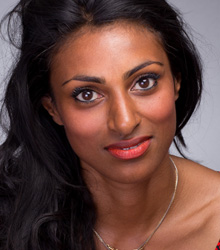 About
Dr Shini Somara is a passionate communicator in the world of science, technology and engineering, effortlessly transforming the complex world of cutting edge science and emerging technology into fascinating television.

After completing her first degree in mechanical engineering Shini spent 4 years working full time as a mechanical engineer, whilst working on her doctoral thesis, completing her PhD in mechanical engineering at the age of 25. It was during this time, inspired by the latest science and technology developments, that she decided to try her hand at TV presenting, wanting to share and enthuse others with her findings.

Shini Somara filmed a show for Sky 1 which, emphasising her passion for invention, saw Shini and co-host Jem Stansfield hunting through past UK patents for fabulous ideas that never quite happened. Once the best inventions were identified they helped build prototypes, refined inventors pitching skills and put them in front of industry leaders in the hope that they would get further funding to help bring their product to market.

In 2012 Dr Shini Somara travelled to all corners of the globe filming No Kitchen Required for BBC America. The show was a unique hybrid of travel, adventure and cookery, which celebrated the diversity of communities across the world. Shini was the show's host and as well as keeping the 3 chefs in check she immersed herself into the communities they visited, getting to know their history, customs and most of all how they enjoyed food.

Shini also co-presented The Health Show on BBC World News. This 26 part series covered the most important and dramatic health stories from around the world including family planning in Nigeria, rapid disease testing in Singapore, using larvicide to prevent malaria and ultrasound surgery. Shini's ability to translate scientific theory into entertaining, interesting and digestible formats has given her the opportunity to contribute to various programmes including The One Show, Watchdog, Inside Out London and Something for the Weekend.

Behind the camera, Dr Shini Somara is still involved in various engineering projects, but also has a number of other achievements including a degree in classical ballet from the Royal Academy of Dance, a qualification in aerobics instruction and yet she's still found time to climb Mount Kilimanjaro and dabble in the world of fashion as a model.
Testimonials
Thank you very much indeed for coming to our speech day on Saturday. It was great to see you there, and your speech hit all the right spots and fitted into the overall day perfectly. All the feedback that I have had is excellent, and I know the girls and parents had a great day - so did I!! It was a pleasure to meet you, and I do hope all your future plans come to fruition. Keep in touch with the school if you are able to!
You may also be interested in...