Dr Sanjida O'Connell
Scientist and writer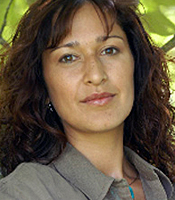 About
Having trained as a zoologist, Dr Sanjida O'Connell has produced and directed a diverse range of science programmes and has begun, more recently, to work as a presenter. Presenting credits include BBC1's Natural History of Great Britain, The British Isles: A User's Guide (BBC4), Hands on Nature (BBC2) and Nature's Calendar (BBC2).

As a journalist, Sanjida contributes to The Times, Telegraph, Guardian, Independent, BBC Focus and is the TV reviewer for BBC Wildlife magazine.

She has also written two novels, Angel Bird and Theory of Mind, which received the Betty Trask award for romantic fiction, as well as two non-fiction books, Mindreading: How we learn to love and lie and, most recently, Sugar: The Grass that Changed the World. She was shortlisted for Asian Woman of Achievement in 2004.

Books and DVDs
Below you'll find products by Dr Sanjida O'Connell which may be available for purchase. Click the image to view on Amazon's website. Clients often like to purchase books and other merchandise as autographed give-aways at events where Dr Sanjida O'Connell is appearing. For bulk purchases, please speak with the Booking Agent handling your event.
You may also be interested in...