DJ Schooly
One of the UK's hottest RnB soul DJs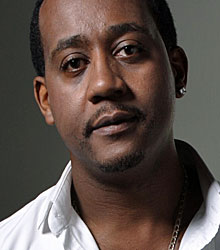 About
Simon 'Schoolboy' Phillips AKA DJ Schooly started out DJ-ing on R&B pirate radio stations in his home town of Leicester, where most of his time was spent on top of thirty storey buildings, in high winds, trying to secure aerials for Leicester's Fresh FM.

He has been involved in all aspects of the media, as a profession, over the course of the last 25+ years.

From humble beginnings in his hometown, gaining recognition to then feature in Nottingham, Birmingham & as far a field as Scotland in the early 90s, to eventually heading south for Regular TV appearances on Channel 5's Wright stuff, MTV Base, The Lick, The Mobo Awards, The Brits, BBC's Liquid News as the man in the know when it comes to what's hot in the world of music.

Schooly journeyed from Choice FM to Galaxy, to hosting Capital Radio's evening show — the centrepiece for London's new music — with just under a million listeners a week.

Within a year his show had gained international acclaim for showcasing and premiering the likes of Shakira, Justin Timberlake, Kanye West, The PussyCat Dolls, James Blunt, Jamie Cullam, Nelly Furtardo, James Morrison, Rihanna, Akon, Eminem, Ja Rule, Ashanti Blunt, 50 Cent, Beenie Man, Outkast, Coldplay, Soul II soul, Jamiroquai, The Game and Sean Paul.

Schooly helped them to achieve commercial success, further asserting his position as one of the most sought-after powerhouses in the UK music industry. Often referred to as 'the man who killed pop' for his influence on promoting successfully urban/Underground music in the UK mainstream further solidified by his weekly residency at Sound, Leicester Square, for the legendary 'Rare' night with Ronnie Herel & Trevor Nelson.

The show gained the attention of 'Microsoft 'who were in London and asked Schooly to feature on the Flagship Project Gotham. It was the first game to launch the xBox world wide and Schooly can be heard as the presenter on the radio station while driving around London and also assisted in the European launch of the xBox with Microsoft.

Behind the scenes schooly was instrumental in launching the careers of Shola Ama, Kele Le Roc, Amy Winehouse, Blue, Nelly Furtado, Craig David, Blue, Phats & Small, Moloko, Destiny's Child, Mariah Carey, Missy Elliott, Usher, Joe, Brand New Heavies, Lauren Hill, Blue, liberty X, Corrine Bailey Rae, Kanye West, Akon, Beverley Knight, Shola Ama, The Game, David Grey, Maxwell, Maroon 5, Christina Milian, to name but a few, and the first point of call for labels such as Universal, Polydor, Def Jam, East West and A&R's world wide looking to break new acts.

There are not many DJ's who, after so long in the game, still have the passion and foresight that Schooly can offer, along with the depth, energy and knowledge on-air and behind the decks, whether intimate or main room its always authentic and 100% passionate.
You may also be interested in...