DJ Schooly
One of 95.8FM Capital Radio's hottest RnB DJs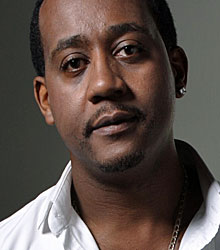 About
Schooly started out DJ-ing on R&B pirate radio stations in his home town of Leicester where most of his time was spent on top of thirty storey buildings in high winds trying to secure aerials for Leicester's Fresh FM.

He soon moved on to join Birmingham's Choice FM then to Galaxy but caught the attention of Capital FM bosses who decided he was their man. These days, life is a bit more glamorous and Schooly is more likely to be playing out the hottest new tunes, getting the latest gossip from celebrity guests like Mariah Carey, Kanye West, Janet Anita Baker, Pussy Cat Dolls and generally being the man in the know when it comes to the best new music.

One of the most respected Broadcasters in radio, Schooly's real passion lays behind the turntables, with over ten years of club work, this is without a question one of the most talent DJs around - a true Club veteran. Travelling globally Schooly is always a welcomed guest and one that you'll want to come again and again.

Simon 'Schoolboy' Phillips currently presents Saturdays 3-6pm on London's 95.8 Capital FM. Also known as Schooly (due to the fact that as a schoolboy he used to drop into the record shop before class), Simon is hugely respected in London and across the UK as a pioneer of RnB music. Alongside his swift progress in radio, Simon was simultaneously building a strong reputation on the UK Club Scene. He was noticed by Trevor Nelson and was soon playing alongside him on the MTV Lick Tours.

Schooly can regularly be found spinning the latest RnB across the country; Fresh'n'Funky (Ayia Napa, Ireland), Milk (Belfast), RnB attic (Newcastle) Soul (Creation/ Bristol, Kinda Funky (Torquay), Atlanta's (Northampton), Connect Club (Lithuania) The Rub (Brighton) and the Southport Weekender to name a few.

More recently Schooly has begun to write and produce music thru his own production company called The Funk Factory' Look out for Mr Alexander, Sasha-Anne & Carla Thomas in 2006.
You may also be interested in...