Rt Hon David Davis MP
Conservative MP, former Brexit Minister and former Tate & Lyle executive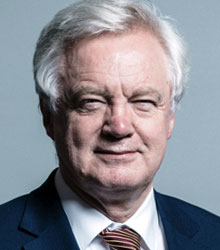 About
David Davis entered Parliament in 1987 at the age of 38 as MP for the Boothferry constituency, and in his subsequent political career he held the positions of Conservative party chairman and Shadow Deputy Prime Minister.

Between 2003 and 2008 he was the Shadow Home Secretary in the shadow cabinet, under both Michael Howard and David Cameron. He had previously been a candidate for the leadership of the Conservative Party in 2001 and 2005, coming fourth and then second. Since the 1997 election, David Davis has been the Member of Parliament for Haltemprice and Howden.

He was raised on Aboyne Estate, a council estate in Tooting, South West London. After attending Bec Grammar School in Tooting, London, he went on to gain a Master's degree in business at the age of 25, and went into a career with Tate & Lyle. David Davis remained there for 17 years, rising to become a senior executive, including restructuring its troubled Canadian subsidiary, Redpath Sugar.

David Davis wrote about his business experience in the 1988 book How to Turn Round a Company.

In the previous Conservative government David held the position of Foreign Office Minister, where he was responsible for government negotiations on Europe, NATO enlargement, the nuclear Non Proliferation Treaty, the Comprehensive Test Ban Treaty and the updated Geneva Convention.

After the 1997 election David was elected as Chairman of the influential Public Accounts Committee. In this role he spearheaded wide-ranging investigations into government policy and procedure, and recommended improvements to government IT strategies, privatisation methods, public service delivery and transparency in government accounts.

David Davis was Shadow Home Secretary from 2003 until he announced his resignation in 2008, forcing a by-election to raise awareness of New Labour's relentless erosion of civil liberties. Since 2008 David has been a leading figure on the Conservative back-benches.

He is best known for being a strong defender of our civil liberties, but his considerable experience in ministerial and public posts means David is a respected speaker and commentator on Europe and the Eurozone crisis, banking, security, education and social mobility. He is Chairman of the Future of Banking Commission.

In 2010 David chaired The Future of Banking Commission which investigated the causes of the recent banking crisis. Funded by the consumer organisation Which?, many of the Commission's recommendations were subsequently adopted by the Government's Independent Commission on Banking.

In 2011 David was lead author and editor of a book of essays written by MPs and leading political thinkers. Entitled The Future of Conservatism: Values Revisited, the book provided a blueprint for the future direction of Conservative Party policy.

David Davis is one of the best known politicians in Britain and frequently appears locally and nationally on television and in the press.
Speech Topics
David Davis is a highly respected and sought-after keynote speaker and in his presentations David often explores the concept of 'fairness' and its effects on politics, social mobility and society.
You may also be interested in...