Dan Hunt
Dan coached GB's men to Olympic cycling team pursuit gold at London 2012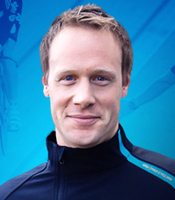 About
Having completed an MSc in Exercise Science Dan Hunt started work at the University of Bath as an assistant sports scientist. Within 2 years Dan was appointed senior physiologist at a National Institute of Sport. In 2005 Dan was contacted by the Great Britain Cycling Team to transform the then failing Women's Endurance Team.

Through Dan's enthusiasm, leadership, vision, and shared British Cycling values and philosophies, he led the transformation of a failing programme into one that produced 4 Olympic Medals in just two and a half years.

Since Beijing 2008, Dan sustained the success of the women's programme, which for him culminated in 2009, where, in addition to successfully defending the World Team Pursuit title, the team medalled in every World Championship event, including events which Great Britain hasn't been competitive in for over 20 years.

Dan went on to take the role of Senior National Endurance Coach and he coached Great Britain's men to Olympic team pursuit gold at London 2012. In January 2013, he was appointed as Sports Director for Team Sky, taking over from Sean Yates. Dan Hunt was part of Team Sky during its inaugral season in 2010 whilst also working at British Cycling.

Throughout his coaching career Dan has coached athletes (both male and female), in individual and team events to Gold medals at National Championships, Commonwealth Games, European Championships, Track World Cups, Road and Track World Championships and Olympic Games.
Testimonials
Would recommend Dan very highly, fantastic feedback for the session and want him back again. He delivered a quality session, exactly what we wanted.
You may also be interested in...