Dame Stella Rimington DCB
Former (and first female) Director General of MI5, the Security Service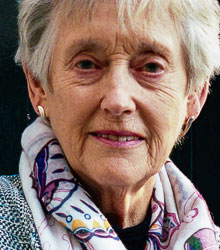 About
Dame Stella Rimington was formerly Director General of the Security Service (MI5). She is invited to speak at a wide range of events as an after dinner speaker or conference speaker. Her audiences include corporate clients, business professionals, public and private sectors, trades associations and schools. Her straightforward approach and friendly manner are combined with an informed and intelligent view. She tailors her speech and is happy to take questions.

Dame Stella was born in 1935 and educated at Nottingham High School for Girls and Edinburgh University. After gaining a postgraduate diploma in the Study of Records and the Administration of Archives at Liverpool University, she worked in the Worcester County Record Office and the India Office Library, London. In 1965 she accompanied her husband on a posting to the British High Commission in New Delhi. While in India, she worked part-time for the Security Service, which at that time had an office in New Delhi.

Returning to the UK in 1969, she joined the Security Service as a full-time employee. She worked in all the main fields of the Service's responsibilities - counter-subversion, counter-espionage and counter-terrorism - becoming successively Director of all three branches. She was appointed Director General of MI5 in 1992, the first woman to take the post and the first Director General to be publicly named. She retired in April 1996.

Stella Rimington was made a Dame Commander of the Bath in the 1996 New Year Honours List. Dame Stella has received honorary degrees from Nottingham and Exeter Universities. Edinburgh University elected her Alumna of the Year in 1994.

She was Non-Executive Director of Marks & Spencer Plc and BG Group Plc and an Associate Director of CPS, where she does executive coaching and mentoring. She was previously Chairman of the Institute of Cancer Research and Trustee of the Royal Marsden Hospital NHS Trust.

Until 2001, Dame Stella was Honorary Air Commodore of 7006 (VR) Intelligence Squadron Royal Auxiliary Air Force and a Trustee of the RAF Museum. She is also a Governor of Town Close House Preparatory School in Norwich. She has two grown-up daughters and two granddaughters.

Her autobiography is Open Secret (Hutchinson - 2001). Her first novel At Risk (July 2004 - paperback available) became a best-seller and her second, Secret Asset, was published in 2006. Her third novel, Illegal Action, was published in August 2007.
Testimonials
Dame Stella is exceptionally polished, very professional and inspiring. Her insight and knowledge are exceptional and we could have listed to her sharing her experiences all day
Dame Stella was absolutely excellent – our audience were spellbound. She was an excellent choice and we would highly recommend her
Dame Stella was superb. Excellent feedback. Delegates thought she was excellent. An absolute pleasure to have her at our event
Dame Stella commanded respect and it was clear that our guests enjoyed listening to someone who "been there, seen it, and got the proverbial T-shirt". She sparked interesting questions and was as relevant today as when she left MI5
We were absolutely delighted with Dame Stella's talk. It was delivered with great humour and style and we have had excellent feedback from those present
Books and DVDs
Clients often ask about purchasing books for giveaways and delegate packs. Below you'll find a selection of products by Dame Stella Rimington DCB. Click the images to view on Amazon's website. For bulk orders, please speak with your Booking Agent.
Tags for Dame Stella Rimington DCB
You may also be interested in...